Video Shows Fires Raging Across the Earth Over 2019
Scientists have released a new visualization showing how fires raged across Earth in 2019.
The video was put together by the Copernicus Atmosphere Monitoring Service (CAMS)—operated by the European Centre for Medium-Range Weather Forecasts—which tracks the location, intensity and emissions of wildfires across the planet.
CAMS does this using satellite instruments which can identify the heat signal of active fires. The organization also monitors the transport of smoke emissions by the winds and the composition of this smoke, providing crucial information for air quality forecasts.
Overall, fire activity in 2019 has been fairly average compared to other years, although there were several examples of "exceptional" activity in some areas, according to CAMS senior scientist Mark Parrington.
"It has been an extremely busy year for CAMS regarding the monitoring of wildfires," Parrington said in a statement. "Throughout the year we have been closely watching the intensity of the fires and the smoke they emit all around the world and have experienced at times some quite exceptional fire activity, even in places where we would expect to see fires at certain points of the year some of the activity has been surprising."
"Our monitoring is important in raising awareness of the wider-scale impacts of wildfires and their smoke emissions so that organizations, businesses and individuals can be informed and plan against the potential effects of air pollution," he said.
Wildfires—a common phenomenon around the world which are sparked by both natural and man-made causes—are a significant source of pollution, pumping a potentially harmful mix of particulates, carbon monoxide and other substances into the atmosphere.
In total, CAMS estimates that wildfires around the world in 2019 released 6,375 megatons of carbon dioxide into the atmosphere between January 1 and November 30—contributing to global warming.
While 2019 was a relatively average fire year in terms of overall activity, there have been several notable outbreaks which had a particularly significant effect on the environment—for example, fires in the Amazon, Australia, Indonesia and the Arctic Circle.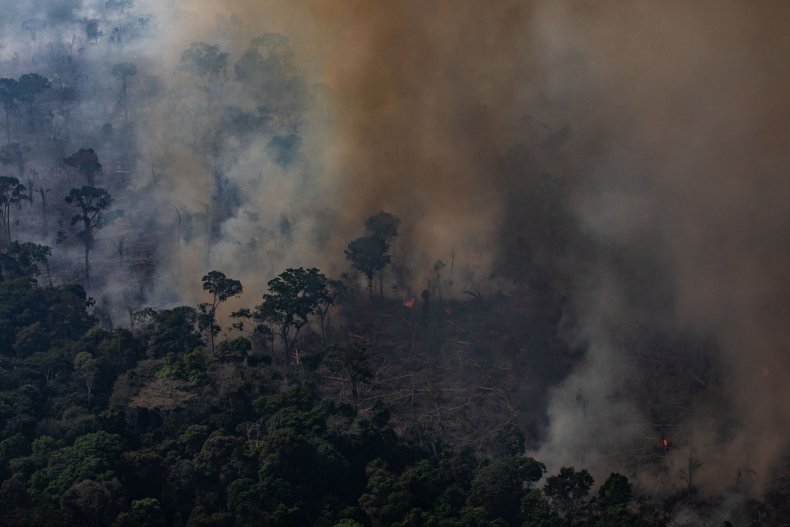 Fires in the Brazilian Amazon region, which made headlines around the world earlier this year, produced the highest amount of emissions in the region in since 2010.
Meanwhile, the fires which raged in the Arctic Circle between June and August were unprecedented in terms of location, scale and duration, according to CAMS. Most of these blazes occurred in Siberia and Alaska, releasing a total of 182 megatons of carbon dioxide. They were mainly caused by unusually hot and dry conditions.
Australia also experienced unprecedented bushfires in certain regions towards the end of the year. These forced some Australian regions to declare a state of emergency and caused widespread air quality issues. In fact, smoke from these fires was subsequently transported over the Pacific Ocean, reaching as far as South America.