Amid rising crime in New York City that has been a key issue in the mayoral race, police security cameras captured a woman being robbed and assaulted in Central Park on Friday by an unidentified man, WABC reported.
The 40-year-old woman was sitting on a park bench around 10 a.m. near the Harlem Meer by East 110th Street and East Drive. The video shows a man approaching the woman and grabbing her iPhone. She holds onto the phone while trying to fight the man off, but she released the phone when he punched her in the face.
The robber is seen swinging a few more times at the victim before taking off.
Two witnesses near the robbery can be seen on video attempting to stop the man as he ran. One woman stuck out her leg in an effort to trip him, but the attacker avoids her leg and carries on running.
A spokesperson for the NYPD told Newsweek that another eyewitness tried to chase down the robber. The person was able to get the phone from the robber, which was returned to the woman.
The police are still looking for the suspect. Authorities told Newsweek that the investigation is ongoing and no arrests have been made.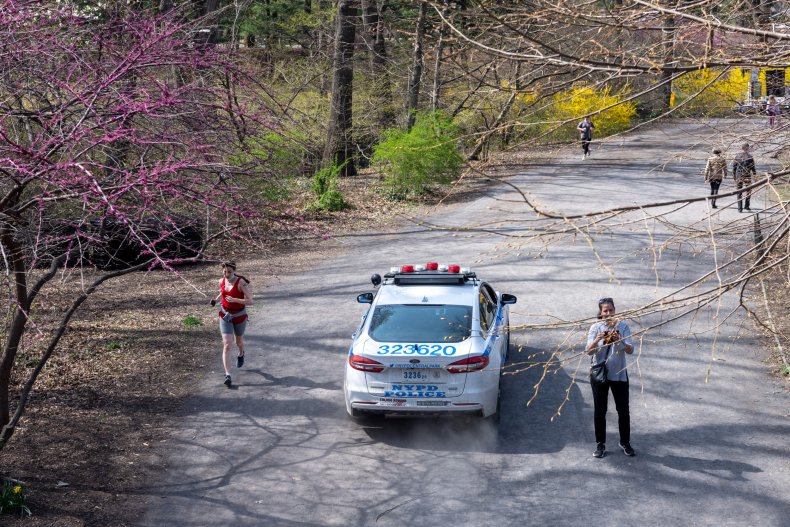 With recent shootings and increased violence in the city, crime is front and center as a major issue in the upcoming New York City mayoral race.
The month of May saw a 22 percent increase in overall crime in the city compared to this time last year. The increase was in part affected by a 46.7 percent increase in robbery, according to NYPD citywide crime statistics.
Last week, Washington Square Park was put under a police curfew after eight officers were attacked by a mob and 23 people were arrested.
In the Democratic primary debate on Thursday, some of the top mayoral candidates spoke on the most pressing issues facing New Yorker— crime being at the top.
Brooklyn Borough President Eric Adams said in the debate that he wants to focus on "intervention and prevention" and that plan starts with the young people of New York. City Comptroller Scott Stringer agreed and added that he believes it is important to "invest in our kids."
"Police and mental health professionals need to engage upfront, so we prevent the crime from ever happening," former Sanitation Commissioner Kathryn Garcia said.
"New Yorkers deserve to be safe on our own streets," fellow mayoral contender Andrew Yang said. "We have to get people who need help, the help that they need, regardless of whether they have the capacity to raise their hands and seek it."
Yang and Adams are against cuts for the NYPD. But another mayoral candidate, Maya Wiley, supports taking $1 billion out of the department's $6 billion budget and reinvesting it to help communities impacted by gun violence, NPR reported.