Video: Siberian Tiger Gives Birth to Adorable Quintuplets in China
An 11-year-old Siberian tiger, also known as a Manchurian or Amur tiger, gave birth to quintuplets at a park in northeast China.
In a video, the mother can be seen tending to her five new cubs—three females and two males—at the Hengdaohezi Feline Breeding Center in Hailin City, Heilongjiang Province.
The cubs are currently being fed goats milk and eggs for strength, before they are eventually released into the wild.
The mother is also being fed around 20 eggs and goat's milk for each meal to ensure she has enough strength to nurse and nourish her cubs.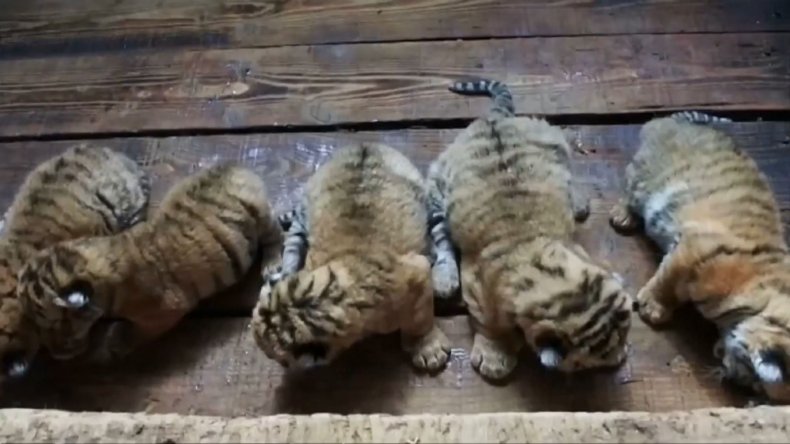 The mother from Heilongjiang Manchurian Tiger Park is the centre's star breeder. Since 2011, she has given birth to over 20 cubs.
In 2014, she had quadruplets and in 2015 she had another set of quintuplets.
"For the endangered species [the quintuplets] mean they have a relatively strong reproductive ability despite such a little population. That makes us confident of their natural breeding in the future," Jiang Guangshun, an official at the park, said.
In 2009, research showed that there were around 500 Siberian tiger's in the wild, making the world's biggest cat also one of the world's most endangered species.
According to WWF, poaching of the tigers increased after the collapse of the Soviet Union but conservation and antipoaching efforts made by animal rights groups have helped keep the population stable.
"The Amur tiger's habitat is now restricted to the Sikhote-Alin range in the Primorski and Khabarovsk provinces of the Russian Far East, small pockets in the border areas of China and possibly in North Korea," the non-profit organization wrote.
"Amur tigers have the largest home range of any tiger subspecies because they have to search over large areas to find food due to low prey densities. They represent the largest unfragmented tiger population in the world."