A new popular TikTok trend sees men starting a romantic date fantasy with "imagine if we," only to swerve into violence. But one TikToker isn't having it.
The new trend appears to be a riff on the popular "what if we kissed" meme from 2018, which asks what would happen if two people kissed in an unlikely situation. For example, one popular instance, according to Know Your Meme, shows a picture of the panopticon, a concept of a prison with a central viewing tower allowing guards to watch any prisoner at any time. The caption is "What would you do if we kissed in the panopticon," along with three monkey emojis, a heart-shaped exclamation point emoji and a blushing smiley emoji.
While the "what if we kissed" meme traffics in absurdity, the "imagine if we" trend is much darker. Last week, TikToker Bekah Day, compiled a few of the videos partaking in the trend, calling them out.
"This trend is not funny. Y'all are not funny. [Domestic violence] isn't a joke, y'all are sick," Day wrote.
Day elaborated in a comment to Newsweek.
"It's extremely scary how normalized DV is becoming on the internet — to the point that men are sitting around and laughing about it. It's sad and upsetting to see our society regress for a few likes and comments. There's certain things on the internet that are absolutely unacceptable and this is one of those things," Day told Newsweek.
In the video, she shows a few examples of the trend, followed with newspaper clippings that eerily mirror the exact scenario joked about.
One clip reads "Imagine if we went on a gym date but instead of spotting you on bench I pushed the weight as heard as i can on your neck and you just [skull and crossbones emoji] kinda sounds like fun [not gonna lie]." This is followed by a 2018 story from Australia's ABC News, titled "Homicide suspected in case of woman found dead with barbell on her throat, coroner's court hears."
The article tells the story of Snezana Stojanovska, living with her husband, brother-in-law and mother-in-law in Preston, Victoria at the time of her death in 2010. Her husband Dragi Stojanovski said he found his wife dead on a ironing board she used as a bench press. She had just found out she was pregnant, according to the article. Snezana Stojanovska had a history of being a victim of domestic violence, according to The Age. No one has been charged in her death.
Another of the clips Day compiled reads "Imagine we went on a fishing date and i drove you out into the middle of the ocean put you in a trash bag and threw you over board by accident lol."
This is followed up by a 2021 clipping from the Associated Press, "Man Charged in Woman's Death After Body Parts Found in Bay." The story is about Robert Kessler who was charged with second-degree murder and abusing a dead body. In December, charges against Kessler had been upgraded to first degree murder.
Police say Kessler had been living with Stephanie Crone-Overholts. Crone-Overholts' body had been dismembered and dumped into McKay Bay near Tampa, Florida. Kessler denies any involvement in her death. He is on trial as of February.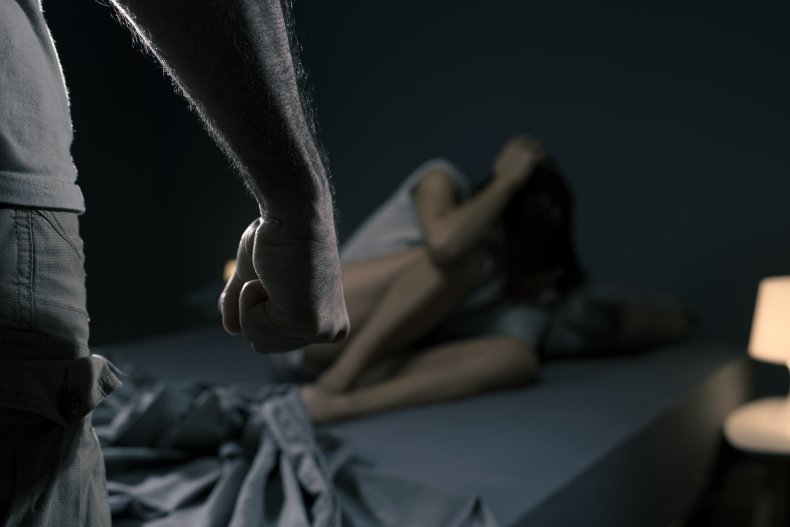 In another clip, the caption reads "Imagine it's spring break and we just chilling on the beech In the warm night breeze then I set u one fire and u just fxcking die." This is paired with another article by the AP: "Ex-Boyfriend of Woman Set on FIre Arrested in Her Death."
This article was published March 16, two days after Day's TikTok went up. Kelli Ranning Goodermont was set on fire at her workplace on March 15, and the following day Goodermont's former boyfriend, Patrick Morris Simmons, was arrested. Police say Goodermont filed a protection petition in 2021 which accuses Simmons of holding a loaded gun to her head.
Simmons was seen by one of Goodermont's coworkers kicking her while she was burning on the ground, according to the Twin Cities Pioneer Press. Simmons told police he threw gas on her and lit her on fire with his lighter.

"I got the gasoline at my house. So, yeah, it's premeditated," Simmons told police, adding that he set his house on fire "because there was paranormal activity going on there."
Comments on Day's video were mostly supportive.
"Dudes saying 'you don't get the joke' what IS the joke? Where's the joke part?" @k.ellsie wrote.
"Some of these 'jokes 'are so specific that I feel like the police should be investigating them for any similar mysterious deaths in the area," @soundindarkroom wrote.
"I love that @tiktok made a huge fuss about new community guidelines yet let's those videos stay up, I'm out of this app [thumbs up emoji]," @ymnmj3 wrote.
A TikTok spokesperson told Newsweek, "Misogyny has no place on TikTok. Content that promotes hateful behavior and violence against women goes against everything we stand for as a safe and inclusive platform and will be removed."
Update (3/22/2022, 10:10 p.m.): This article has been updated to include a comment from TikTok.
Update (3/25/2022, 6:40 p.m.): This article has been updated to include a comment from Bekah Day.