South African Musician Plays Guitar While Surgeons Operate on His Brain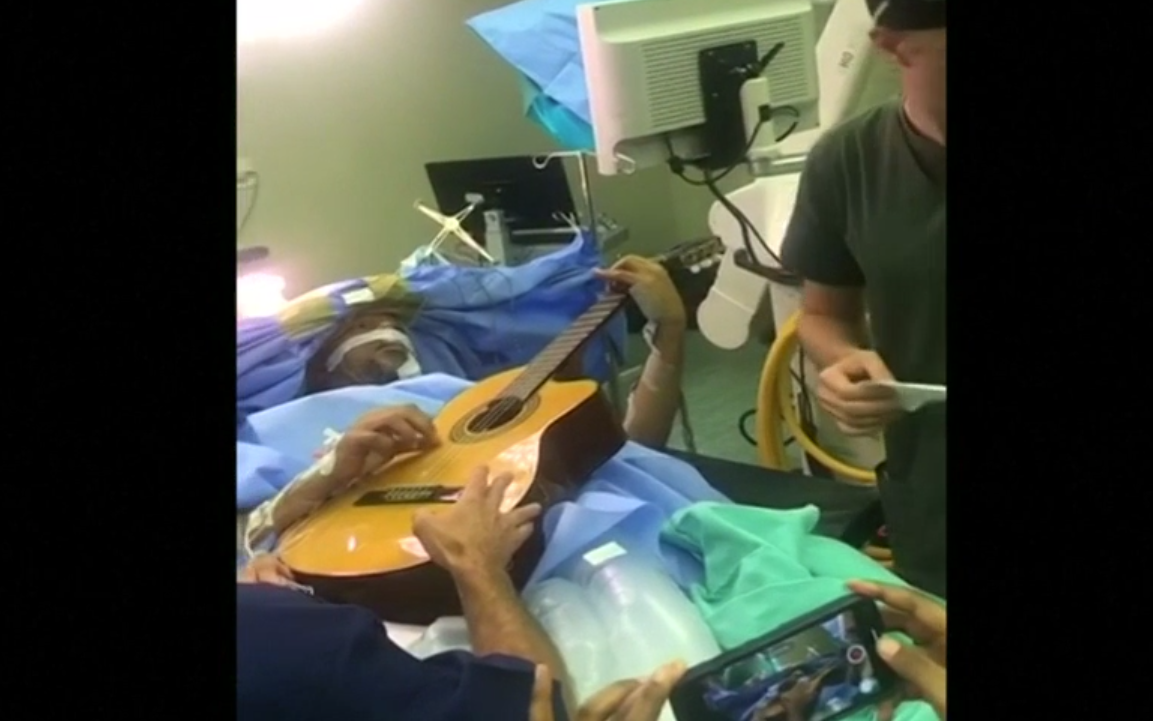 A South African musician played a guitar during his own three-hour-long brain surgery to remove a tumor at Inkosi Albert Luthuli hospital in Durban.
In video footage of the incident Musa Manzini can be seen awake and strumming on an acoustic guitar as several surgeons operated on his brain. The medical technique, known as "awake craniotomy," aids doctors in carrying out delicate brain operations wile preserving neural pathways.
"It increased the margin of safety for us, in that we could have real-time feedback on what we were doing," Dr. Rohen Harrichandparsad, one of the operating neurosurgeons, said, according to The Guardian.
"We had to ensure that whatever pathways he was using for music were preserved," he told The New York Times. "There's no single pathway, but a multitude that interact."
The practice was ultilized to ensure Manzini can produce music, which pulls on complex pathways of the brain, and helps to minimise damage caused. The procedure has been successfully executed several times throughout various countries in recent years. In 2014, a singer was instructed to belt out opera during her brain surgery in the Netherlands, while in 2015, Spanish musician Carlos Aguilera played a saxophone to assist neurosurgeons through the delicate stages of his 12-hour brain surgery.
"It can be very difficult to tell the difference between the tumor and normal brain tissue," said Dr. Basil Enicker, the specialist neurosurgeon who led Manzini's operation, according to the Times. "Once you're near a critical area, you can pick it up early, because he will tell you."
Enicker confirmed that 90 percent of the tumor was removed before they stiched Manzini up and discharged him a few days later. He is currently recovering from the operation—that he remained awake throughout—at his house in Durban. "Our main aim was to make sure that we do the best that we can for our patient," Enicker said, before addressing the positive news coverage of the surgery: "We are pleasantly surprised."