Watch: SpaceX Falcon 9 Rocket Launch Was So Spectacular Viewers Crashed Their Cars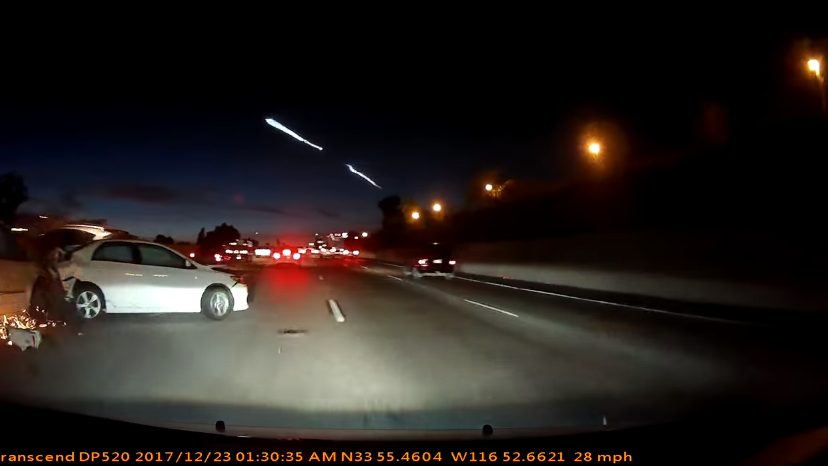 The SpaceX Rocket Falcon 9 dazzled residents of Southern California Friday night as a long, white light flew over the sunset.
New dashcam footage of the launch shows that maybe someone was a little too dazzled. As the rocket glowed overhead, a three-car crash unfolded on a Southern California highway, video shows.
In the film, what appears to be a family notes what a sight the rocket launch was, and cars slow down in the highway traffic. You can hear a short crunch to the driver's side, then a white car is pushed forward and accordioned between two cars, launching sideways into another lane. The white car appears heavily damaged, but no injury can be seen in the film.
"Oh shit, this guy is not paying attention, man!" the driver says of the car that fails to slow down.
While the filmed passengers appear to know that the light in the sky is a rocket, other Californians were confused and surprised by the appearance. Some apparently thought aliens in a UFO caused the sight, and the hashtag #aliens trended on Twitter.
The rocket, called Falcon 9, is a nine-engine rocket designed by Elon Musk's company SpaceX. Falcon 9 is a reusable rocket that has launched 18 times in 2017, most recently out of Santa Barbara, California. Like other SpaceX Rockets, it delivers payloads to space. On December 22, it launched to deliver 10 iridium satellites into orbit. This rocket launches from one station in California and two in Florida, but it's rare that so many people can see it. In this case, conditions were perfect: there was a little bit of light in the sky to illuminate the rocket, and it was bright and visible in the just-darkening sky.
As the sun set over the ocean, thousands of spectators filmed the scene, and for days they flooded Facebook, Twitter and Instagram with pictures and videos. One Instagram user, @thekevingreene, put together a spectacular time-lapse video of the launch over Los Angeles.
According to spaceflightnow.com's launch schedule, the next time that SpaceX will launch the Falcon 9 will be on January 4, 2018, some time between 8:00 and 10:00 PM eastern time, out of Cape Canaveral Air Force Station in Florida. Drivers in Florida: take note!