Video: Spanish Firefighters Save Dog From Burning Building
Incredible footage has been released of a team of Spanish firefighters saving a dog from a burning building in Cordoba.
The video shows several firefighters ready to storm into a burning room. After dousing the entry with fire extinguishers, one of the firefighters makes a run for the dog, which is completely limp. The dog is found beneath wreckage, laying in a pool of water.
The firefighter holding the dog sprints out of the building and into the road in front of the apartment building. A team of three surround the dog and begin splashing it with cold water. Slowly, the dog's breathing returns to a steady pace while crew members rub its stomach.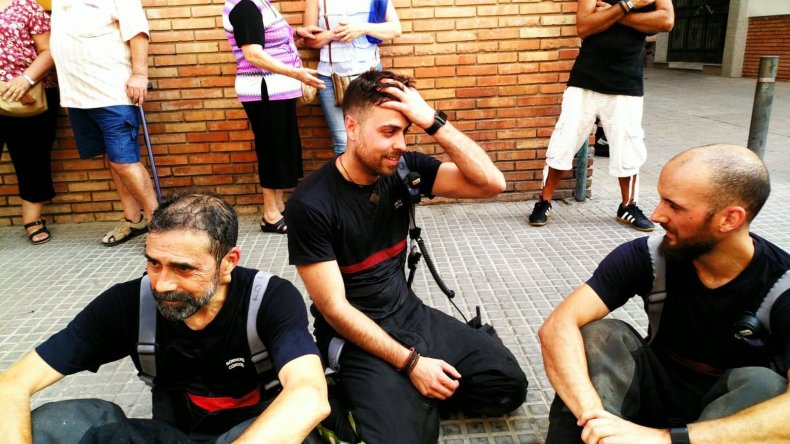 The dog was taken to the Centro Veterinario Sierra de Cordoba veterinary clinic shortly after. The video was recorded by a firefighter's body camera and uploaded to their Facebook page on August 7. Later that day, the page announced the dog was expected to recover fully from smoke inhalation.
The fire department has since uploaded a video of the dog running around with a bandage around its front right leg. The firefighters said the dog was due to be discharged and return home to its family soon. "We feel very proud," the firefighters said on Facebook.
In June, video circulated of a police dog—also in Spain—being taught to perform CPR. Poncho can be seen running up to a collapsing officer and jumping up and down on the officer's chest. Poncho takes small breaks in between several jumps to put his ear to the officer's neck so that he can listen for a pulse.
Last week, a drug-sniffing police dog in Oregon was saved after it was exposed to heroin on the job. The Belgian Malinois/German Shepherd Abbie was performing a search at the Clackamas County Jail.
While the officer and Abbie were examining a suspicious container, it spilled over, exposing her to the heroin. Soon after, the dog began exhibiting signs of heroin exposure, including rapid headshaking, rapid blinking and the production of excessive saliva.
Fortunately, another deputy in the sheriff's department was able to quickly deliver life-saving medication—a specially adapted nasal spray of the drug Nalaxone, which is sold under the brand name Narcan. The spray successfully stabilized Abbie, and she was then taken to the VCA Clackamas Animal Hospital for treatment. She was held overnight and released the next morning.