VIDEO: Spanish Police Seize 139 Dangerous Animals from Dead Man's House
Spanish police have seized 139 animals — many of them dangerous — from a home in Gran Canaria after the owner died.
The Nature Protection Service (SEPRONA) of Las Palmas de Gran Canaria in the Spanish Canary Islands said 118 animals are invasive species and 21 are considered dangerous.
The authorities said the seized animals "have a high reproductive capacity and pose a serious problem for the ecosystem, as well as being able to transmit dangerous diseases to humans."
They were seized from a home in the rural municipality of San Bartolome de Tirajana in Gran Canaria.
Authorities said the animals are included in the CITES (Convention on International Trade in Endangered Species of Wild Fauna and Flora) agreement and in the Spanish list of invasive exotic species.
The Spanish Civil Guard said in a statement on March 20: "Among the species seized were one ball python, two Burmese pythons, one dwarf caiman, two bearded dragons, two Greek tortoises, 34 crayfish, one leopard gecko, 46 giant African snails, seven colubrid snakes, one American bullfrog, one eastern long-necked turtle, eight iguanas, one spectacled caiman, 23 red-eared sliders, 13 blue-tongued lizards, three African spurred tortoises, 200 rats, 100 mice, and an undetermined number of cockroaches, worms and crickets."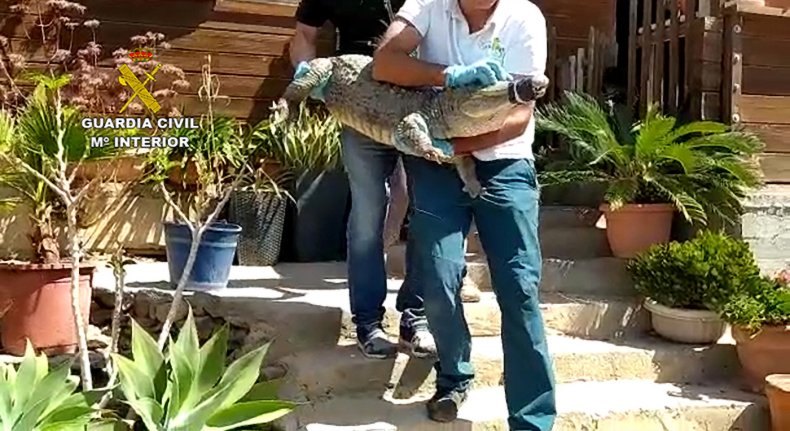 The removal happened after the Civil Guard learned that a person who had recently died left a large collection of prohibited non-domestic animals in a private property that he had turned into a zoo.
"The SEPRONA Patrol of San Mateo contacted a relative of the deceased, who voluntarily agreed to enter the house for an inspection of the facilities, where the animals were located," the statement said. The animals were captured and transferred to the Crocodile Park, police said.
"The Civil Guard points out that invasive alien species (IAS) are one of the main causes of biodiversity loss in the world," the police statement said.
The authorities said an invasive alien species is an animal that has been "introduced or established in an ecosystem or natural or semi-natural habitat that is an agent of change and a threat to native biodiversity, either by its invasive behavior, or by the risk of genetic contamination."
In late February, also in Gran Canaria, Spanish police seized a large private collection of poisonous animals and arrested one man for keeping 53 protected specimens in his urban home. Among the specimens were a Gila monster, a Chinese crocodile lizard and various species of alligators.
This story was provided to Newsweek by Zenger News.