Video Sparks Debate After Showing How 'Younger vs. Older' Generations Act at Restaurants
A viral TikTok has sparked debate among viewers about restaurant etiquette across generational divides. The clip, found here, has been viewed over 666,000 times since it was posted last week, racking up over 91,000 likes in the process. The attention garnered by the post speaks to the increased tensions felt between so-called "boomers," "millennials," and "Gen Z."
In the now-viral clip, TikToker Sally Loeza pans across a restaurant, comparing how two different tables look at the end of a meal, once the customers had left.
She explained to Newsweek she had been on a date with her fiancé at the time of the incident. "Once we were done eating we did what we normally do, which was to pick up after ourselves," she said. "As we were waiting for our check we noticed that the group across from us hadn't done the same. We chuckled because time after time we have noticed that the older generation doesn't always pick up after themselves."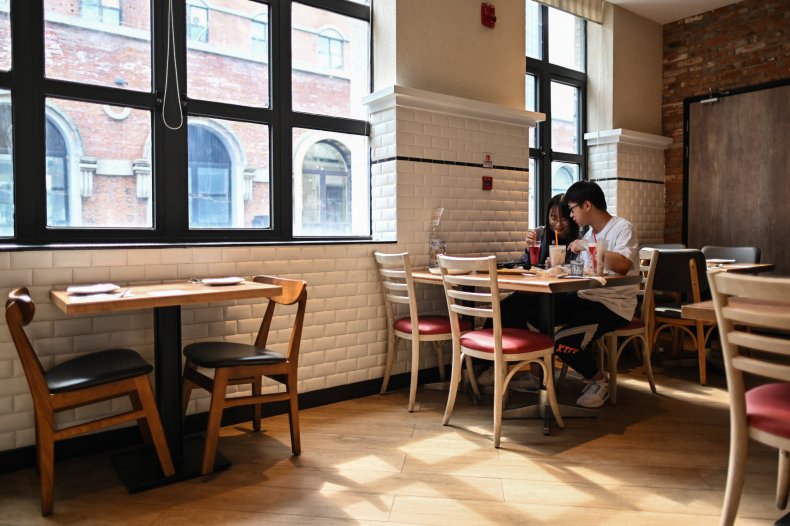 The video highlights the contrast between the two tables: on the left was Loeza's booth, where all of the dishes are shown stacked into a neat pile, trash and napkins appear to have been grouped together, and the cups are lined up in a row at the edge of the table.
Loeza then shifts the focus to the table across the aisle, on the right. There, dishes, glasses, silverware, and napkins had been left scattered across the table.
"Younger generation vs older generation," wrote Loeza in the video's caption, along with the hashtags #genz and #boomers.
She confirmed with Newsweek that the diners that had been sitting at the table beside her were, indeed, Baby Boomers. "Personally, as someone in the younger generation I think we have been made fun of a lot," she said. "There's a stereotype that we are entitled, difficult, and disrespectful. This video showed the opposite."
However, she acknowledged that the issue is not purely generational. "You have the good apples and bad apples in each generation," she said.
Upon watching the brief clip, viewers flocked to the comments section, with many debating the several sides of Loeza's claim.
Many, for example, echoed the TikToker's point, noting that they do the same when they eat out.
"I always stack the plates and gather it all together before leaving," wrote @TheForever_Student. "It just seems more courteous!"
However, some restaurant staff spoke up to say that the gesture isn't always as helpful as intended. "I worked in restaurants and literally never once cared if someone left a table looking like either of these," wrote @Name.
TikToker @dannileigh went a step further, adding that they "actually hated when customers did this" because "they always stacked them wrong."
Others, meanwhile, felt that the issue at hand wasn't a generational issue, but instead a question of manners. "Not a generational thing at all," wrote @brick.killed.a.guy. "Good parents raise good people. My boomer parents taught me to do this."
According to Loeza, she decided to record the scene because she thought "it was interesting" and has been "shocked" by the attention it's received. She explained to Newsweek: "Our friend, who has been a server for [eight] years, has told us that her and her crew have always appreciated the help so we continue those habits everywhere we go."
"I think [the video] really grabbed the attention of a lot of young individuals who then started commenting their own observations, which the older generation did not agree with," she added.
"I believe people mistreat servers and expect them to be perfect and do everything for them," said Loeza. "We can attempt to help and make their job a bit easier by taking [five] seconds to pick up."