Video: Stephen Colbert Knocks Trump's Mexico Tariff Threat—'Trump Is Putting a Tariff on Summer'
Host of The Late Show, Stephen Colbert, has hit out at President Donald Trump over his threats to put tariffs on Mexican imports to the United States, saying he is "putting a tariff on summer."
The comedian lampooned Trump over the tariffs, due to steadily rise from a starting level of five percent, that are aimed at spurring Mexico into greater action on illegal immigration, saying the added costs would hurt everyone.
"Last week Trump threatened that if Mexico did not stop central American migrants from crossing into the United States, he would put a five percent tariff on everything we import from them, starting this coming Monday. Everyone is going to feel these tariffs, okay," Colbert explained.
"Our top four agricultural imports from Mexico are beer, avocados, tomatoes and tequila. Trump is putting a tariff on summer," he joked.
"Here is the thing, keep in mind if you like avocados I suggest stocking up now and then eating all of them this weekend because they are going to go bad. They're not ripe, they're hard, they're hard, they're mush, they're gone," the late night comedy host added.
According to CNN, half a dozen Republican Senators have spoken out at Trump's proposed tariffs. Colbert joked that their flirtation with rebellion might lead somewhere.
"This is such a bad idea that even congressional Republicans are flirting with rebellion. Ooh oh, oh rebellion, flirting, flirting, flirting with rebellion," the comedian said. "That could lead to a dalliance with integrity, maybe making eyes at governance and then at the Christmas party a drunken hook-up with defending the constitution."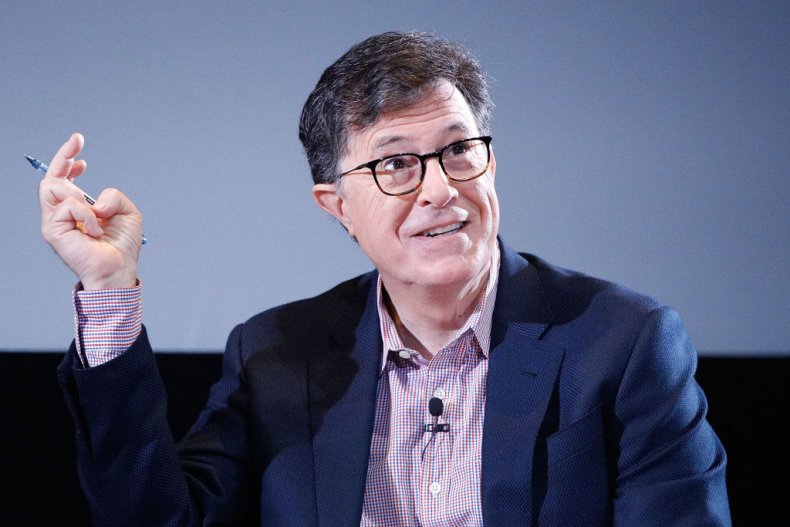 The graphic below, provided by Statista, illustrates agricultural products imported from Mexico into the U.S.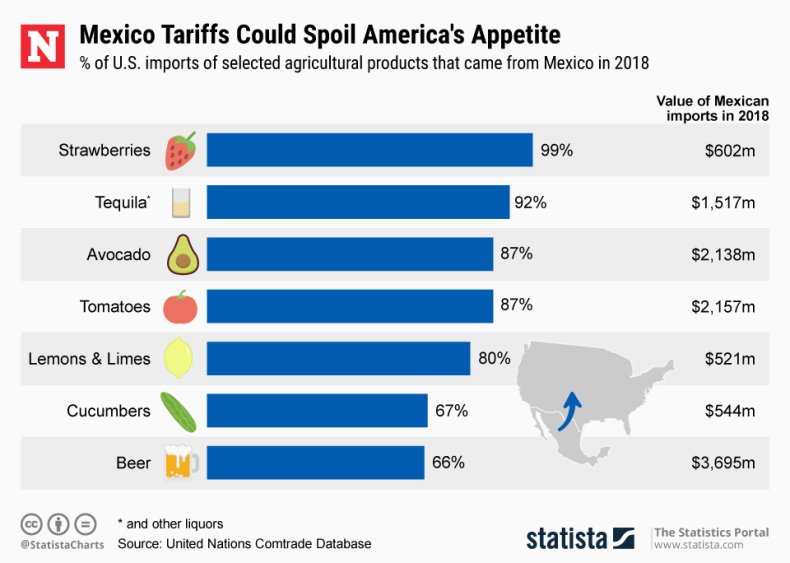 The Washington Post reported that officials from the Mexico and the U.S. are in the process of discussing a deal that would overhaul Mexico's immigration enforcement in a bid to avoid the U.S. tariffs. To avoid the economic hit, the U.S.'s southern neighbor has said it will deploy 6,000 troops to the country's border with Guatemala to reduce the number of migrants heading north to the United States.
The fallout from Trump's tariffs are not expected to fall on Mexico alone. The Perryman Group, an economic consultancy in Waco, Texas has calculated that some 406,000 U.S. jobs will be wiped out if the president goes ahead with the plans.
Companies that move goods over the border and firms that service them have offered stark warnings over the tariffs. The Pacific Coast Council of Customs Brokers and Freight Forwarders Associations has warned implementing the levies in such a short time frame is impossible and voiced "grave concern, even alarm" in a letter to the president.
This article was updated to include an infographic.