Video: Stephen Colbert Mocks Donald Trump for His 'Oranges' of Mueller Investigation Gaffe: 'High Clementine We Do So'
The host of The Late Show With Stephen Colbert poked fun at Donald Trump's relationship with the English language, after the president struggled to pronounce the word "origin."
In his Tuesday monologue for the CBS show, Colbert talked about how Trump was asked by journalists whether the full report by special counsel Robert Mueller would be made public.
Trump said he would fight its release and that it was time to investigate the investigators of the two-year probe, which found no evidence that the Trump campaign colluded with Russia to influence the 2016 election.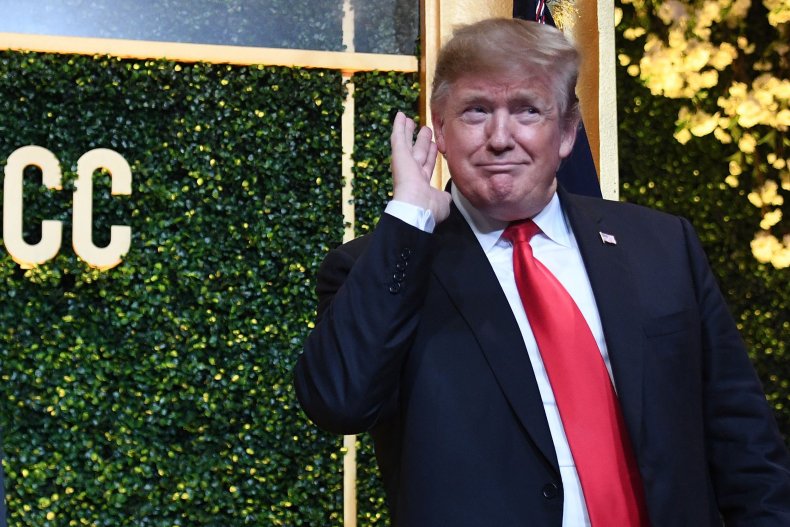 Colbert introduced the clip of Trump's questioning at the White House by saying, "See if you can notice his small slip of the brain."
The clip then showed the president saying, "I hope they now go and take a look at the oranges of the investigation." Trump said "oranges" instead of "origins" another two times.
On cue, Colbert went into full pun mode, saying "Yes! Yes, sir! We must take a look at the 'Oranges of the investigation!' I say it is 'high clemen-time' we do so! The American people will not 'stand-gerine' for it any longer! We can vitamin C right through the lies! We tropi-can handle the juice!"
By now on a citrus-themed roll, he told a "knock, knock" joke in which the punchline was "orange you ashamed we have a president who can't pronounce origins?"
The gaffe also provided rich pickings for Jimmy Kimmel Live, with the host joking that, "What happens is, he wakes up every morning, sees the color of his face and the rest of the day he has that word stuck in his head," Mediaite reported.
The White House transcript later recognized Trump's mispronunciation but spelt "oranges" in a different way, noting it as "oringes."
For the man who once said he had the "best words" it is the latest public mispronunciation by the president. Last month, he called the head of Apple, Tim Cook, "Tim Apple."
Trump later tweeted he used the moniker to "save time and words," and said it was an example of how the "Fake News was disparagingly all over this, & it became yet another bad Trump story!"
But the president is more frequently mocked for spelling mistakes on Twitter, with possibly his most infamous example being "constant negative press covfefe."