Video: Stephen Colbert Mocks Donald Trump's SOTU—'Painful, Pandering Pablum from Putin's Pet President'
President Donald Trump's State of the Union address had the ring of poetry to it, according to Stephen Colbert. The host of The Late Show examined the turns of phrase made by the president on Wednesday, in particular his assertion that the "economic miracle" in the United States could be threatened by "foolish wars, politics or ridiculous partisan investigations."
Trump told lawmakers on Tuesday, "If there is going to be peace and legislation, there cannot be war and investigation." After jeers from Colbert's audience, the CBS host gave an ironic appreciation of the meter and rhyme of Trump's couplet.
"I think that's kind of cute, he threatened our democracy with a little poem," Colbert said. He then riffed about Trump's background: "There once was a Donald from Queens, who came from a family of means. Don't look into my stuff, he cried in a huff." The rhyme ended with, "because you'll find out I betrayed our country to the Russians."
Colbert also described how Trump "went the whole hog on alliteration" during his address at the Capitol building. He threw to clips in which the president referred to "cooperation, compromise and the common good" as well as "greatness or gridlock" and "results or resistance."
Colbert hinted that some of the alliteration was a tad forced, when he said: "That is painful pandering pablum from Putin's pet president," Mediaite reported.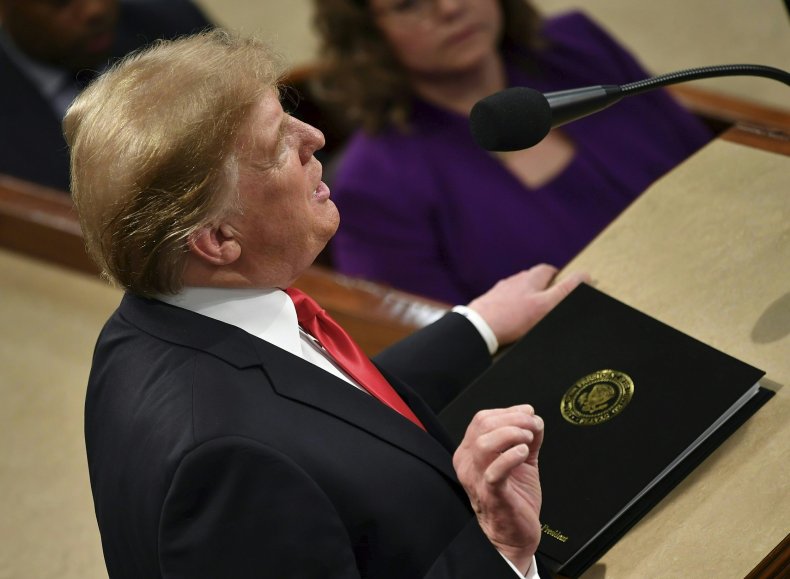 Colbert's reference to the Russian leader came after earlier on Wednesday the president criticised House Intelligence Committee Chairman Adam Schiff (D-Calif) over the opening of an investigation into Trump's personal and business interests with Russia, and whether this had an influence on his decision making.
Schiff said in a statement, The Hill reported: "The president's actions and posture towards Russia during the campaign, transition, and administration have only heightened fears of foreign financial or other leverage over President Trump and underscore the need to determine whether he or those in his administration have acted in service of foreign interests since taking office."
On Wednesday, Trump described Schiff as a "hack" and said that "it's just presidential harassment and it's unfortunate and it really does hurt our country," in comments made to reporters at the White House.
Schiff tweeted on Wednesday: "I can understand why the idea of meaningful oversight terrifies the President. Several of his close associates are going to jail, others await trial, and criminal investigations continue."
Schiff appeared on Colbert's show in December, calling Trump a "deeply unethical man" who has not been reined in by the Republican Congress.
Meanwhile, Trump said he was "very honored" by the feedback he received from his address on Tuesday.
"It was very important, I think, for me to get up and say some powerful words and some loving words and some words of compromise. The speech, I think, has been well received," Trump said, according to The Hill.
The graphic below, provided by Statista, illustrates the viewership ratings of recent State of the Union addresses.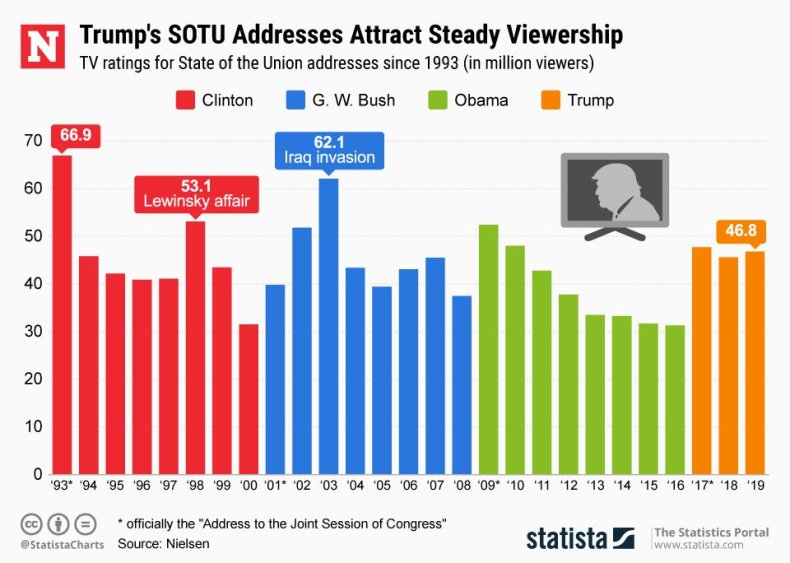 This article was updated to include an infographic.