Video: Stephen Colbert Roasts Kirstjen Nielsen in 'Late Show' Farewell—She's Leaving 'To Spend More Time Separating Her Family'
Comedian Stephen Colbert had a field day with the resignation of Secretary of Homeland Security Kirstjen Nielsen in Monday's edition of The Late Show.
The previous day, President Donald Trump had announced the departure of Nielsen, who presided over a White House policy in which adults caught illegally crossing the border into the U.S. would face criminal prosecution. This led to children being separated from their parents and put into government custody in a move that was condemned globally.
Colbert started his monologue referencing this controversial policy. "One person who is not feeling like a champion right now is… Kirstjen Nielsen. I believe she is leaving to spend more time separating her family," he said.
Colbert then made fun of reports that Nielsen "wasn't fired" yet at the same time "did not resign willingly."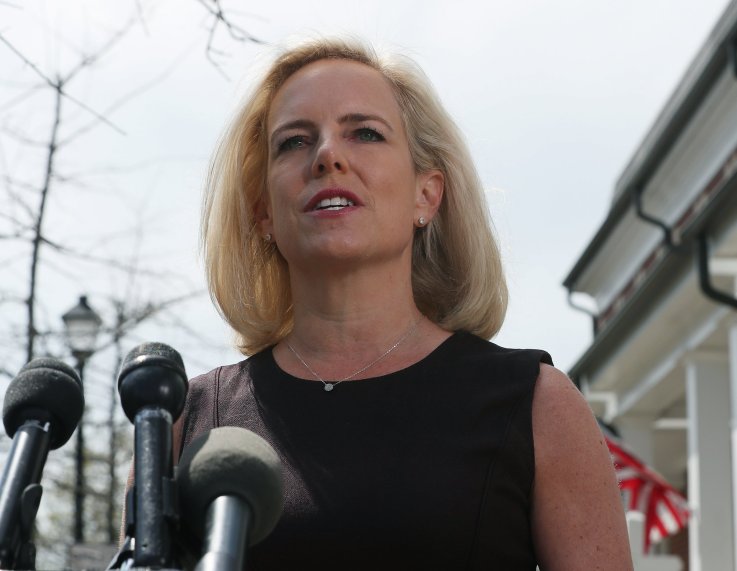 Referring to how someone might put a positive spin on the end of a relationship, he said "that sounds like splitting hairs. 'No, Sarah did not dump me, she begged me to dump her!'"
Colbert went on: "Nielsen's departure is not a total shock. Reportedly for weeks, Nielsen has felt 'in limbo'—'limbo' is the right word here, because we've all been watching just how low she can go.
"Sure, she puts kids in cages, but Trump was upset because Nielsen hasn't enacted stricter immigration rules. So, he just needs someone who can be crueler to children then Kirstjen Nielsen.
"Get ready for Secretary of Homeland Security Pennywise—and of course, she will be taking his place," referring to the character in the horror novel It, by Stephen King.
The graphic below, provided by Statista, illustrates the number of immigrants apprehended at the U.S.-Mexico border each month.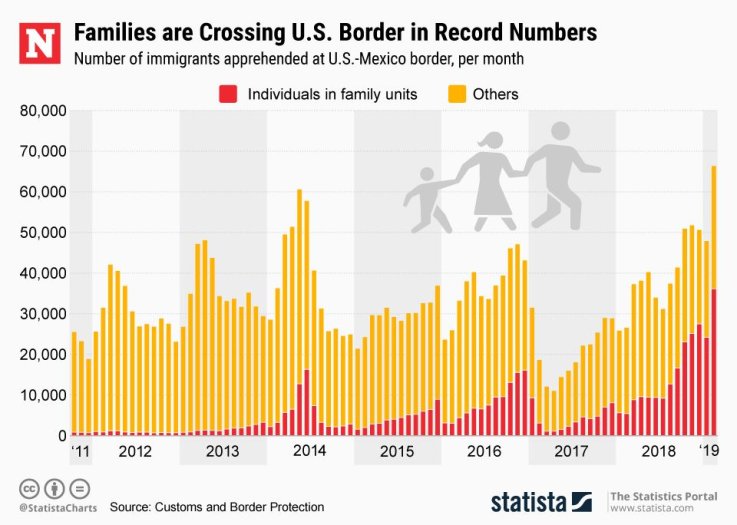 Since the resignation, there have been numerous reports of clashes between Trump and Nielsen. The New York Times detailed how the president often called her at home early in the morning to demand that she "take action to stop migrants from entering the country."
The paper also reported how Trump would pressure Nielsen to take measures that were illegal to stop asylum seekers from coming to the U.S. border, such as "blocking all migrants from seeking asylum."
She reportedly fell back into Trump's favor after Border Patrol agents deployed tear gas on migrants attempting to seek asylum through the border city of Tijuana, Mexico, in November 2018, according to The Washington Post.
Trump has appointed Customs and Border Protection Commissioner Kevin McAleenan as Acting DHS secretary to replace Nielsen.
This article was updated to include an infographic.
Video: Stephen Colbert Roasts Kirstjen Nielsen in 'Late Show' Farewell—She's Leaving 'To Spend More Time Separating Her Family' | U.S.