Video: Stephen Colbert Sums Up Donald Trump's Infrastructure Press Conference—'My Way or no Highways'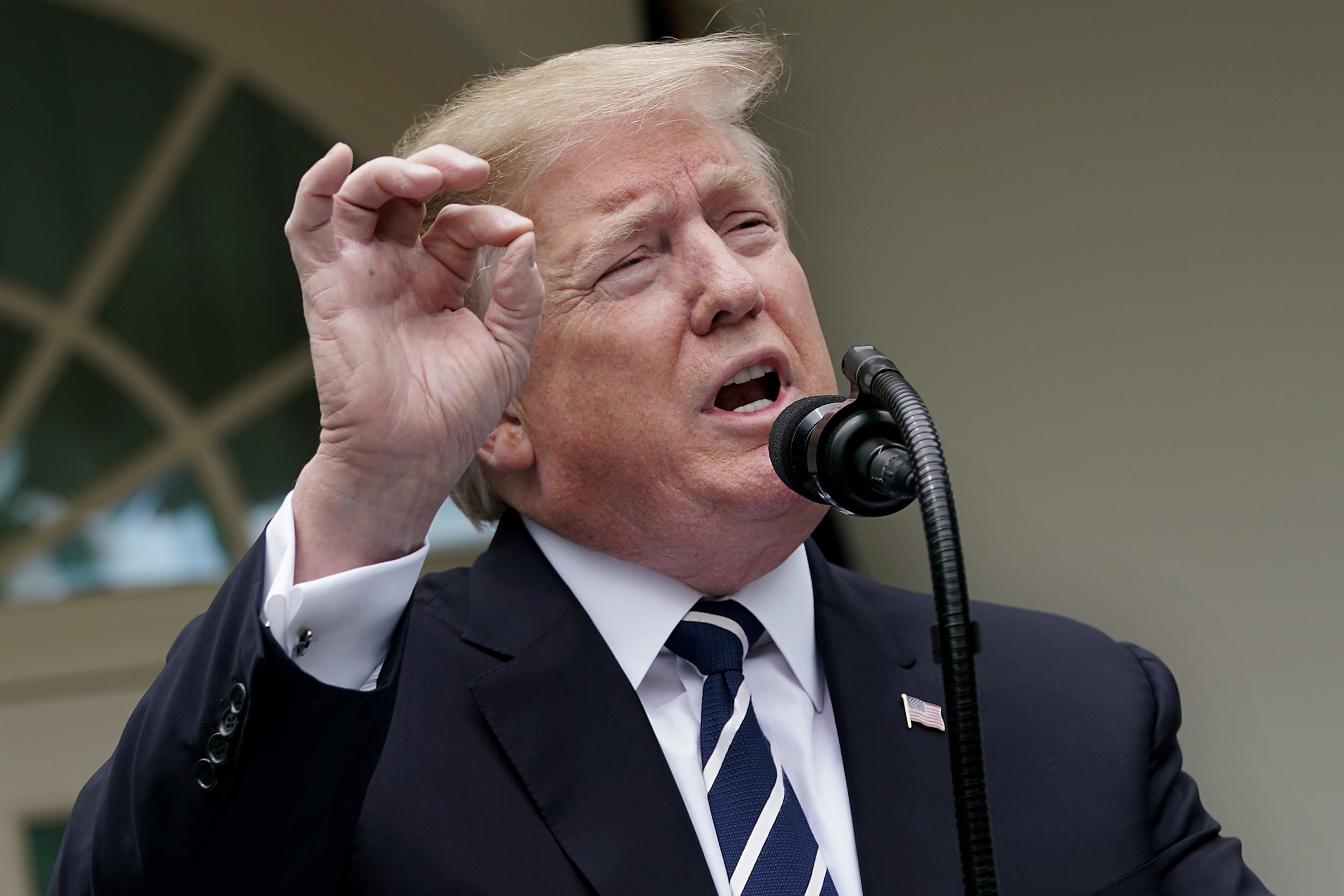 Stephen Colbert has mocked Donald Trump for storming out of a scheduled infrastructure meeting, suggesting there would be "no highways" built unless the president gets his way.
On Wednesday, Trump cut short a meeting with Speaker of the House Nancy Pelosi (D-CA) and Chuck Schumer. The trio were supposed to discuss a bipartisan infrastructure spending package, following up to a meeting held three weeks ago.
Back then, Trump agreed to a $2 trillion plan to rebuild America's infrastructure.
However, the discussion never got started as the president walked out of the meeting after stating he could not work with the Democrats until they stop investigating him.
"Trump has a clear way on infrastructure," Colbert said on The Late Show on Wednesday night.
"'It's my way or no highways.'"
After abruptly ending the meeting with Pelosi and Schumer, Trump held a press conference at the White House. Speaking to reporters assembled in the Rose Garden, he reiterated his commitment to the infrastructure plan, but warned it was impossible to proceed under the current circumstances.
"I want to do infrastructure," he said, as per CBS.
"I want to do it more than you [Pelosi and Schumer] want to do it. I would be really good at that, that's what I do. But you know what? You can't do it under these circumstances."
He then explained any attempt at bipartisan cooperation were dead in the water until the "phony investigations" were concluded.
"I've said from the beginning—right from the beginning—you probably can't go down two tracks," he said.
"You can go down the investigation track or you can go down the investment track. We're going to go down one track at a time. Get these phony investigations over with."
Trump then lashed out at Pelosi for accusing him of engaging in a "cover-up" over his administration's repeated attempts to prevent House Democrats from obtaining access to his finances.
"I came here to do a meeting on infrastructure with Democrats, not really thinking they wanted to do infrastructure or anything else other than investigate," Trump said.
"I just saw that Nancy Pelosi, just before our meeting, made a statement that 'we believe that the President of the United States is engaged in a cover-up.' Well, it turns out I'm the most transparent president probably in the history of this country.
"Instead of walking in happily to a meeting, I walk into look at people that have just said that I was doing a cover-up."
In a letter sent to Democratic colleagues later on Wednesday, the speaker of the House shared her own version of events.
"We believe that we must be For The People and create good-paying jobs for American workers," she wrote.
"Democrats are here for the country. Sadly, the only job the President seems to be concerned with is his own.
"He threatened to stop working with Democrats on all legislation unless we end oversight of his Administration and he had a temper tantrum for us all to see."