Video: Stephen Colbert Takes Apart Donald Trump's Windmill Attacks—Beware of Wind, Mr. President
Late-night comedy host Stephen Colbert has hit out at President Donald Trump's claims wind turbines are dangerous, warning him to "beware of wind."
Colbert was responding to a speech the president made at a National Republican Congressional Committee dinner on Tuesday, variably criticizing the renewable energy source as a blight on property values, a hazard to birds and, most dubiously, as a cause of cancer.
"Hillary wanted to put up wind, wind," Trump told dinner guests on the clip played by The Late Show with Stephen Colbert.
"If you have a windmill anywhere near your house, congratulations, your house just went down 75 percent in value and of course it is like a graveyard for birds. If you love birds you'd never want to walk under a windmill because it is a very sad, sad sight. It's like a cemetery. We put a little statue for the poor birds," the president added.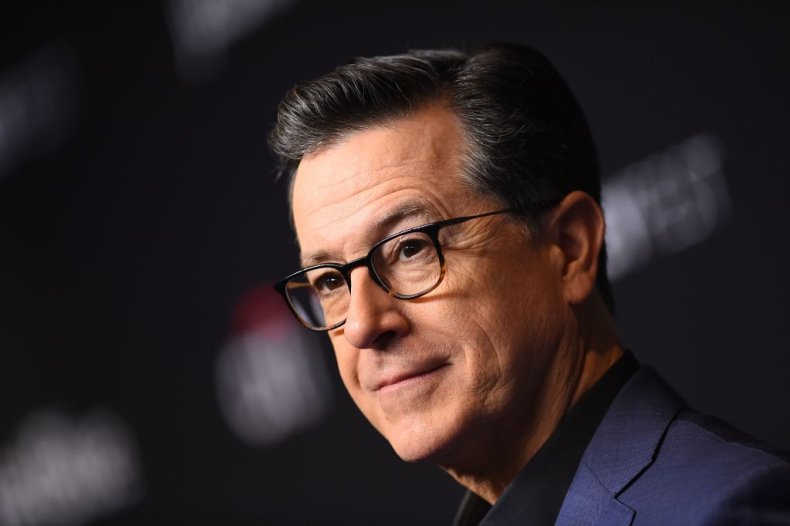 Colbert then cut to an image tweeted by the president during the 2016 election campaign, showing him tucking into a KFC bucket. "Yes, it is true. Donald Trump grieves for the birds. Here he is attending a wake for a beloved chicken," the comedian said, referring to the picture.
"The funeral was open bucket. Rest in 12 piece," Colbert added.
The late-night host then put Trump's most contentious claim about wind energy in his sights. "They say the noise causes cancer," the president said in the clip from the Tuesday dinner. Trump then proceeded to make a grinding noise.
"Of course windmills cause cancer," Colbert said sarcastically. "That's why everyone in Holland is dead. Also, noise does not cause cancer. Although, I believe listening to Donald Trump might cause brain damage," he added.
Groups seeking to undermine wind power as a source of energy have claimed the noise emitted by wind turbines, a low-frequency sound referred to as infrasound, causes a variety of health problems including sleep loss and anxiety, among others. According to The Atlantic, however, there is no proven link between wind turbines and health problems. No cancer has ever been linked to loud noises of any kind.
The president has frequently spoken out on wind energy, making unsupported claims. At a campaign rally in Michigan in March and at the Conservative Political Action Conference, also last month, Trump claimed electric appliances powered by wind turbines turned off when the wind stopped blowing. "When the wind doesn't blow, just turn off the television darling, please. There's no wind, please turn off the television quickly," the president said in Michigan. "I know a lot about wind," he added.