Video: Stephen Colbert Unveils Joe Biden's Campaign Slogan, 'MAMA…'
Stephen Colbert has joked that Joe Biden unwittingly created a campaign catchphrase that does not exactly roll off the tongue.
The host of The Late Show With Stephen Colbert referred to the interview that the former vice president gave Good Morning America in which he was asked if he had a motto akin to Trump's "Make America great again."
Seated with his wife, Jill Biden, the 2020 Democratic contender told co-anchor Robin Roberts: "Make America moral again. Make America return to the essence of who we are, the dignity of the country, the dignity of people, treating our people with dignity."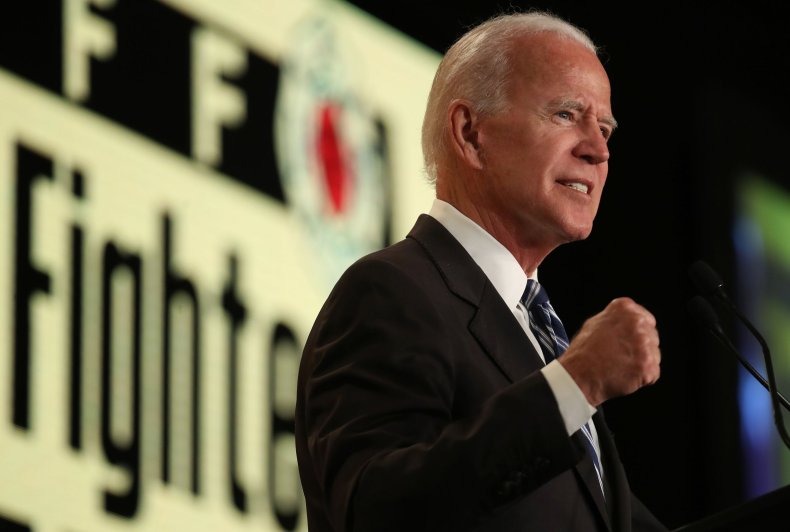 Colbert joked that as an acronym, it somewhat lacks the punch of Trump's phrase. To cheers from the studio audience, Colbert said: "Move over MAGA."
"MAGA's over because Biden is coming at you with "MAMA…" Colbert said, before adding the rest of the first letters of the words in Biden's response.
"Little awkward to say I admit, but it's going to look fantastic on his hat," he said, throwing to a doctored image of Biden in a MAGA-style red hat, with his quote emblazoned on it.
On the previous night's show Colbert mocked a video Biden posted on YouTube, which he compared to a home loan advertisement.
During the interview with Good Morning America, the first since he announced his candidacy, Biden insisted he wanted to take on Trump so he could "restore the soul of America," and that he backed the working and middle classes and aimed to "leave no one behind."
"The reason I'm running is we have to unite the country, which we're going to be talking a lot about because you can't stay fractured like we are now," Biden told the ABC program.
"Whether I win the nomination is going to depend on the Democrats, and whether or not I beat Donald Trump is going to depend on the American people. But like I said, everybody knows who Donald Trump is."
Biden also addressed the claims made by women of inappropriate contact. "I've always thought that part of leadership, part of politics was listening to people, hearing them, making them feel comfortable. It's my responsibility to be more sensitive to whether or not someone wants me to reassure them or wants to say hello or wants to show affection toward. And that's my responsibility," Biden said.
He was also asked about his handling of Anita Hill's 1991 testimony against then–Supreme Court nominee Clarence Thomas, who she accused of sexual assault. Biden was the chairman of the Senate Judiciary Committee at the time.
"I believed her from the very beginning, but I was chairman," Biden said. "She did not get a fair hearing. She did not get treated well. That's my responsibility. As the committee chairman, I take responsibility that she did not get treated well. I take responsibility for that."
After the former vice president announced he would be in the running to take on Trump in 2020, he has leapt ahead as the favorite among the crowded field of Democrats.
A new poll conducted by SSRS for CNN shows 39 percent of voters who are Democrats or Democratic-leaning independents put Biden as their top choice for the nomination, 24 points ahead of the nearest candidate Bernie Sanders, CNN reported.