VIDEO: Teen with Learner's Permit Crashes Car Into Community Pool
A tow truck slowly winched a car out of a community swimming pool earlier this month in Colorado, after a teenager with a learner's permit lost control and splashed down.
Police in Lakewood, Colorado cited the young driver, whose name was not released, for careless driving on July 15. The West Metro Fire Department and a tow truck were called to the scene to remove the car, a black Nissan Infiniti, from the deep end.
Lakewood Police said no one was injured in the accident, including the teen driver and a passenger, even though the car was mostly submerged.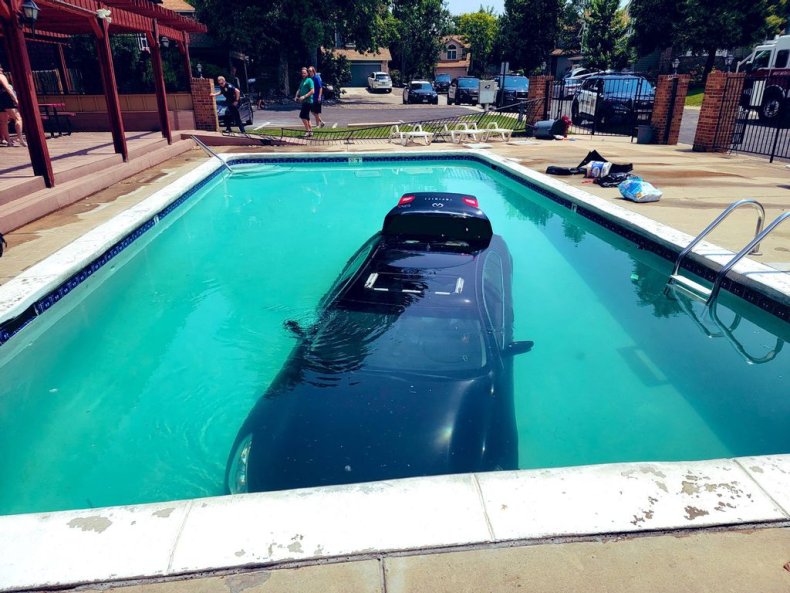 Google's Street View service shows the pool in the autumn, covered with a tarp, while children riding toy cars spin around the same parking spaces where the driver launched his Infiniti into the water.
Before Ace Towing could drag the car out of the pool, the fire department's dive team had to go underwater with scuba gear to hook it up to a tow cable. It took about 15 minutes to connect chains to the vehicle at several points.
In video footage, a diver is seen attaching the car to the cable before the tow rig slowly dragged it, dripping wet, out onto the deck.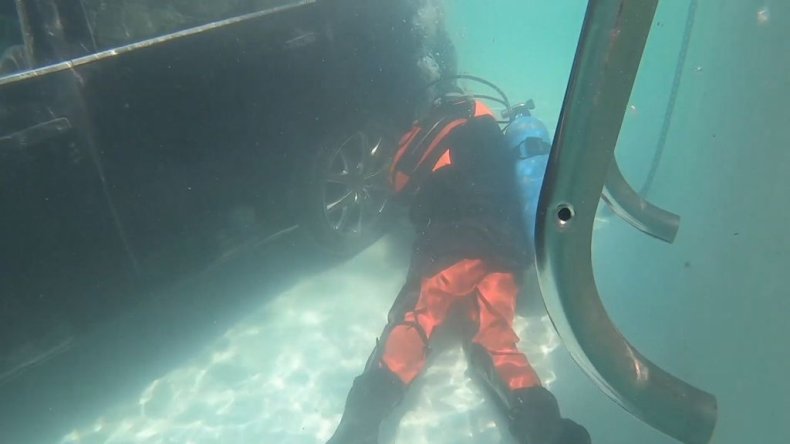 "Going in was probably a bit easier than coming out," West Metro Fire Rescue said in a statement. "Our dive team, assisting in recovering a car that went into a pool in the 1100 blk. of South Flower Circle on Thursday, July 15."
The fire department added that they'll do "whatever it takes to serve" in times of emergency.
Lakewood Police tweeted on July 16: "Man... it's a #Hot one out there today, it would be a good day to jump in the ... pool. Thank you to @WestMetroFire for the follow up work, Ace Towing for getting the car out of said pool & to all that is good in the world for there being NO injuries to anyone."
The department followed up hours later, joking about Twitter users' comments: "Just FYI, the best line for this is 'Check out our new Infiniti Pool.' Everyone else is battling for second place."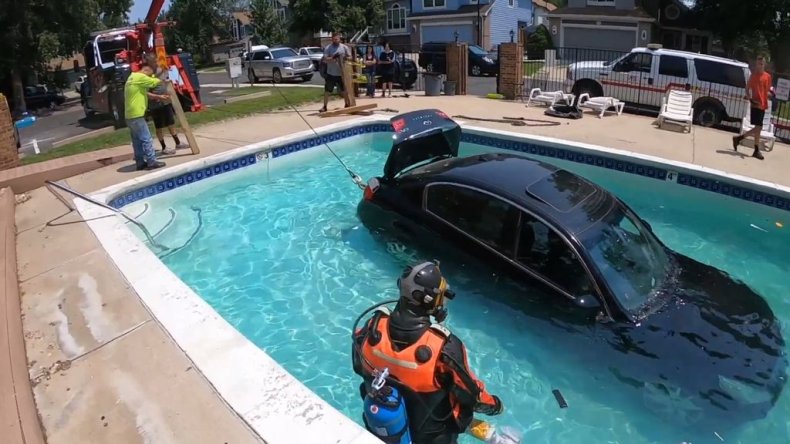 Teens in Colorado can get a learner's permit at age 15, after completing a 30-hour driver's education course and passing a written test.
Once drivers obtain those permits, they must be accompanied by an instructor, parent, guardian or other licensed adult above the age of 21 in order to legally practice their skills. In the first six months, no passengers under 21 years of age are allowed.
Drivers between the ages of 16 and 19 are three times as likely to be in a fatal car crash, compared with drivers age 20 and older, according to the Centers for Disease Control and Prevention.
This story was provided to Newsweek by Zenger News.