VIDEO: Tennessee Titans Celebrate with 'Remember the Titans' Dance During Giants Win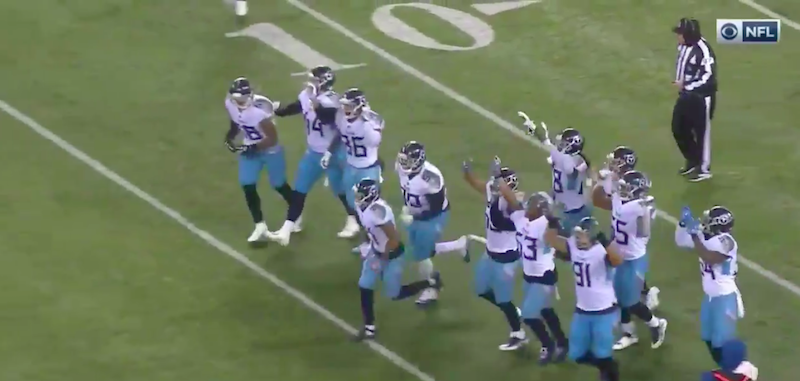 They are the Titans, might mighty Titans.
The Tennessee Titans celebrated their 17-0 shutout of the New York Giants on Sunday by doing the famous shuffle dance performed by the 1971 TC Williams Titans high school football team in the film "Remember the Titans."
Titans safety Kevin Byard broke up a fourth-and-goal pass in the game's final minute to secure the shutout, which led to the celebration as the defense trotted off the field.
In the film, the undefeated Titans performed the dance and "we are the Titans" chant prior to Game 3 of their state championship season against Groverton. The pregame dance was an act of solidarity among the integrated football team amid an era of racial tension in Alexandria, Virginia.
Like TC Williams, the Tennessee Titans cruised to a dominant victory on Sunday, led by another big performace from running back Derrick Henry.
Coming off a franchise record 238-yard performance, the former Heisman Trophy winner recorded a career-high 33 carries for 170 yards and two touchdowns during Sunday's win.
The Titans defense was equally impressive, holding Giants rookie running back Saquon Barkley to 31 yards on 14 rushing attempts and New York's offense to 260 total yards. Tennessee recorded three sacks and a third-quarter interception, which stopped a red zone drive that could have tied the game at 7, as well as a forced fumble to set up Henry's second touchdown run.
Sunday's victory was the first time the Titans shutout an opponent since defeating the Dallas Cowboys, 31-0, on Christmas Day in 2000, as well as the first time the Giants had been held scoreles since losing, 23-0, to the Arizona Cardinals last Dec. 24.
Titans quarterback Marcus Mariota threw for 88 yards on 13 of 20 passing in a rain-soaked game at MetLife Stadium. But Tennessee's rushing attack prevailed with 216 yards on 42 carries.
Tennessee kicker Ryan Succop missed a 48-yard field goal on its opening series, but retained possession on the 25-yard line and drove 75 yards on 15 plays, which was capped off by a 1-yard run by Henry for his first score of the game. The running back seemed to have scored two plays prior, but a video review determined that he was down short of the goal line.
Linebacker Kamalei Correa forced a fumble on a sack of Giants quarterback Eli Manning in the third quarter that was recovered by Jurrell Casey on the 14-yard line. New York forced fourth down on the 3-yard line, but a facemask penalty on a sack of Mariota set up first-and-goal. Succop was successful on a 22-yard field goal attempt in the fourth quarter.