Video: Texas Security Guard Fires at Truck During 'Road Rage Incident'
Shocking footage has emerged showing a security guard repeatedly shooting at a truck in an apparent road rage attack.
The incident, recorded between Little York Road and Aldine Westfield Road in Houston, Texas, sees a man dressed in full security guard uniform arguing with a driver of a red truck on the afternoon of 10 June.
Moments later, the driver of the truck reverses in an attempt to get away, with the security guard still holding on to the window. The guard, later identified as John Onyeri, then fires through the windshield before shooting several more times as the driver speeds away.
Dramatic video of the incident went viral after it was posted onto social media by Houston resident Sol Uresti.
"They was arguing and the other guy in the red truck just went back, and that's when the gunshot went off," Uresti told KTRK. "The guy in the red truck was scared, so he just left."
The local news site then later found Onyeri, who works as a security guard for a grocery store. He said the confrontation started after the truck hit his car from behind. He then approached the driver of the truck to exchange insurance information.
"I put my hand in there, and then he rolled the glass, I see the glass, and I say 'let my hand go,'" said Onyeri.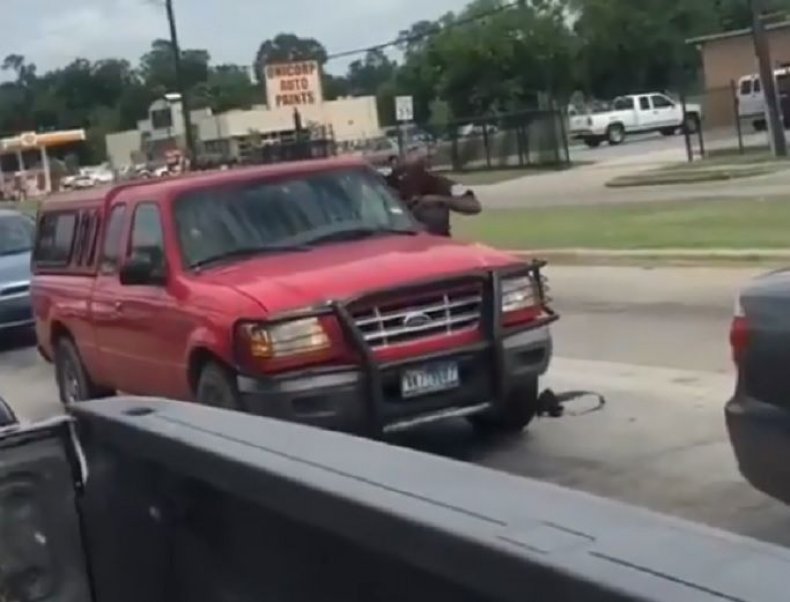 He added he fired his gun in order to deflate the truck's tires, not to injure the driver.
"He was trying to get away, yes. I didn't shoot him, I was shooting at the tire," he said.
"He tried to shoot at him, but I think he missed. He shot at his back right tire (it) was flat and he didn't harm him, he didn't hit the guy, so he's safe. I don't think there was no need for that, to be honest," eyewitness Leo Delafuente added to Click 2 Houston.
Houston Police confirmed the driver was not injured in the shooting and that they are still investigating the incident. Officers are asking anyone who may have any information to contact them.
Video: Texas Security Guard Fires at Truck During 'Road Rage Incident' | U.S.