Video: Theresa May Rolls Eyes as Trump Is Asked About Sun Interview Attacking Her
Both President Donald Trump and Prime Minister Theresa May were caught on camera showing their displeasure at a journalist's question about the now-infamous interview given by the American leader to The Sun, a British tabloid newspaper.
The pair were giving a brief update to a pool of reporters at Chequers, the prime minister's countryside residence, but Trump said he would take no questions until a press conference scheduled later in the day.
But even as the reporters were being led out of the room, a journalist was heard asking Trump about the interview, seen as undermining May's leadership and a major diplomatic faux-pas. Trump pulled a face and May rolled her eyes.
Live Updates: President Donald Trump in the U.K. To Meet Prime Minister May and the Queen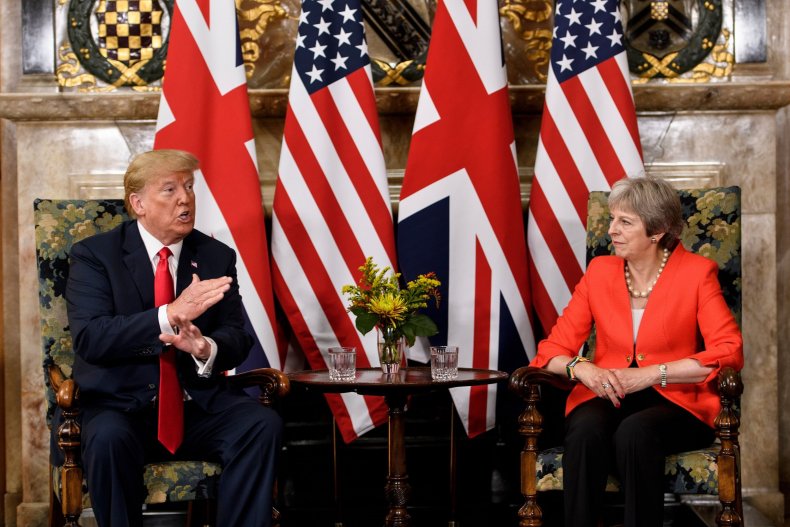 Trump had told The Sun newspaper that May's current plan for Brexit would "probably kill" any potential trade deal with the U.S. by keeping Britain too closely aligned with the European Union E.U.
"I would have done it much differently," Trump said of Brexit negotiations. "I actually told Theresa May how to do it but she didn't agree, she didn't listen to me."
He added that he did not think the Brexit deal formulated by May is what Leave supporters in the 2016 referendum voted for.
The president also said he thought Boris Johnson, May's old rival for the Conservative leadership and her foreign secretary until he resigned last week in opposition to her Brexit plans, would "be a great prime minister."
"Well I am not pitting one against the other," Trump said. "I am just saying I think he would be a great Prime Minister. I think he's got what it takes."
Johnson had previously said at a private dinner with Conservative Party activists that it is a "fantastic idea" to have Trump leading Brexit negotiations.
"I am increasingly admiring of Donald Trump," Johnson said, according to an audio recording leaked to BuzzFeed. "I have become more and more convinced that there is method in his madness...How would he approach it is worth thinking about."
"He'd go in bloody hard," Johnson said. "All sorts of breakdowns, there'd be all sorts of chaos. Everyone would think he'd gone mad. But actually, you might get somewhere. It's a very good thought."
During his visit to the U.K. Trump will have talks with May, meet Queen Elizabeth II, visit a defense facility, and then travel up to Scotland to spend time at the golf course he owns there called Trump Turnberry. He will then travel on to Helsinki, Finland, for a summit with Russia's President Vladimir Putin.
He had arrived in Britain from a testy NATO summit at which he demanded allies drastically increase their defense spending and claimed "Russia controls Germany" because Berlin buys gas from Moscow.