Video of TikToker Meeting Will Smith While Driving Goes Viral
One TikToker has proved Will Smith is still very much loved by fans despite all the controversy surrounding his slapping Chris Rock at the 2022 Academy Awards and Rock's subsequent response.
Social media influencer Arrington Allen has gone viral for sharing a video of him driving alongside Smith during a chance encounter on a highway. The brief but sweet exchange has been viewed by millions online already.
Many have been waiting for Smith's response to Rock's recent Netflix stand-up show Selective Outrage. In his latest special, Rock went in on Smith, discussing his reaction to last year's Oscars slap, and bringing up Jada Pinkett Smith's relationship with rapper August Alsina while the couple was temporarily separated.
Posted a day before Rock's Netflix show went live, Smith seemed in good spirits as his fan interaction was caught on camera.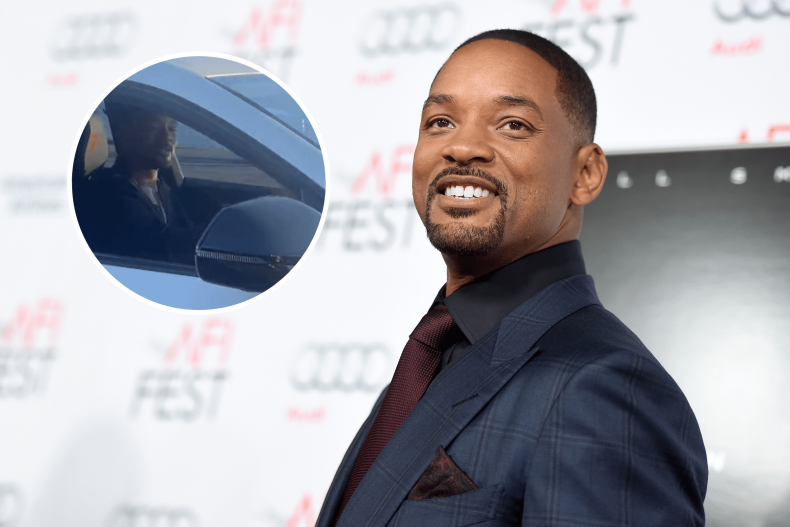 "Met will smith yesterday and he was so nice," Allen wrote on Twitter. He shared a short 5-second video, but it was enough to catch the attention of the internet and be viewed over 1.2 million times.
Allen is filming from a car traveling on a highway and pulls up alongside another vehicle. People from Allen's car are screaming at Smith with one shouting, "I love you." Smiling and waving, Smith eventually blows them kisses as a thank you, but he makes sure to keep his eyes on the road as he's driving alone at the time.
"Too bad he wasn't nice to Chris," one of the highest-rated comments on the video said, referencing the Oscars slap. Another said, "he was nice because you didn't have his wife's name in your mouth."
Twitter Blue subscriber Curtis Durrah pedantically replied, "that's not meeting him but ok."
The video received thousands of comments and retweets, with a large portion of responses praising Smith.
Many have been waiting for Will and Jada's reply to Rock's stand-up routine mentioning the pair.
Smith slapped Rock at Hollywood's biggest night after the latter had made a joke about Jada Pinkett Smith. Smith shouted, "Keep my wife's name out your [...] mouth." His actions resulted in a ten-year ban from the Oscars.
On his Netflix show, Rock brought up the "entanglement" that Jada and Will discussed on her talk show Red Table Talk. Jada admitted to having a relationship with rapper Alsina who is 21 years her junior.
Rock's show provoked a range of reactions, with some online accusing him of "punching down" on Black women, while others like Rosie O'Donnell and Whoopi Goldberg suggested they approved.