Video: Trevor Noah Clowns Donald Trump—'America's Top Used Car Salesman Sold GM Workers a Lemon'
Trevor Noah roasted President Donald Trump on last night's Daily Show, saying that he "sold General Motors workers a lemon" after promising to ensure that the company brought back jobs and opened factories.
On Monday, G.M. announced that it was cutting nearly 15,000 jobs in the United States and North America, despite receiving large tax breaks from the Trump administration in late 2017.
Noah opened his bit by talking about his dislike for the Chevy Cruze, which G.M. will end production of by the end of 2019.
"One car that I'll be glad to never see again is the Chevy Cruze because every time I go to rent a car I somehow always end up with a Chevy Cruze," the South African comedian said. "And you know what they do is they trick you right, because what they say is BMW or similar, and then when I get there they give me a Chevy Cruze."
"So, G.M. says because nobody was buying it, they're gonna stop making the Chevy Cruze and honestly, I get it, people don't wanna drive a car that shares a name with Ted Cruz, it's as simple as that," he joked. "It's the same reason that no one bought the Ford Gadaffi right, no one wanted that car."
But Noah said the sad truth was that, as much fun as it is to joke about G.M.'s cars, because they're shutting down so much production, many people are losing their jobs. He then cut to a news segment reporting on the recent job cuts in which angry workers were interviewed.
"Real people who have lost their jobs, people who are crying, people who are angry," Noah said. "And now people are pissed off for two reasons, right. One, like all big corporations, G.M. just got a huge tax cut. But they didn't use that money to protect these jobs. No. They mostly used it to prop up the price of their own stock through buybacks."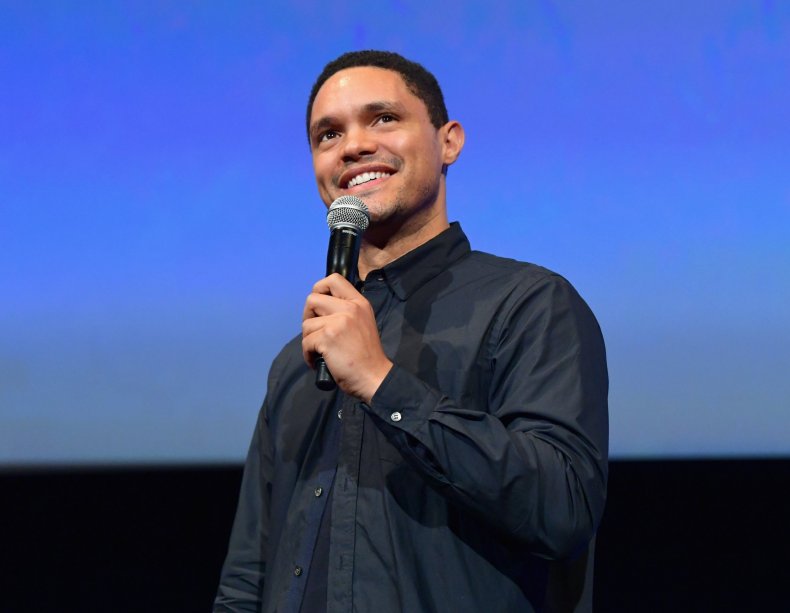 "And, like, we can't really be surprised that a business would do that, right? Businesses always try to maximize their profits. That's what a business does. Like, if a business isn't making money, it's either a charity or Trump is running it. That's how it works."
Noah continued by saying that many G.M. workers are particularly angry at Trump because he specifically promised that if people voted for him, he'd make sure that G.M. added jobs. The host then cut to another set of clips, this time of the President appearing at campaign rallies.
"General Motors announced that they're adding or keeping 900 jobs right here in Michigan and that's just the beginning folks," the President said in one clip. "In fact, I told them that's peanuts."
In another, he said: "Let me tell you folks in Ohio and in this area, don't sell your house. We're gonna fill up those factories or rip 'em down and build brand new ones."
But according to Noah, this did not happen the way the President promised.
"You know what the president should have done? He should have said, 'We're gonna give you new factories or similar,'" he joked, mimicking the President's voice.
"So, it turns out America's top used car salesman clearly sold G.M. workers a lemon," he said. "And if you think about it, Trump's promises are a lot like the Chevy Cruze: You can sell them as hard as you want, but at the end of the day, no one's buying it."