Video of Trump Laughing During 'Let's Go Brandon' Chant at World Series Seen Over 11M Times
Former President Donald Trump attracts attention anywhere he goes, with anything he does or just about anything he says. Saturday was no different during Game 4 of the World Series between the Houston Astros and Atlanta Braves, where Trump and his wife Melania were in attendance,
Game 4 was at Truist Park in Atlanta, and the former president was seen in videos doing the controversial "Tomahawk Chop" with Braves fans. Also, a group of fans near Trump began chanting, "Let's go Brandon" several times, and Trump was seen in a Tik Tok video laughing during the chant.
By Monday night, the video had already received more than 11 million views, and that number should keep climbing as long as the video stays online.
Why is that chant significant? The "Let's go Brandon" chant is something that originated from early October after NASCAR driver Brandon Brown won the Xfinity Series race in Talladega, Alabama. As he was being interviewed by sportscaster Kelli Stavas, a group of fans in the background began yelling, "F*** Joe Biden!" several times.
Stavas seemingly mistook what was being yelled when she said, "As you can hear the chants from the crowd – 'Let's go, Brandon.'"
At that point, those who have displeasure with President Joe Biden have used the "Let's go Brandon" chant as a rallying cry, and as a way to say the expletive version without actually saying the expletive.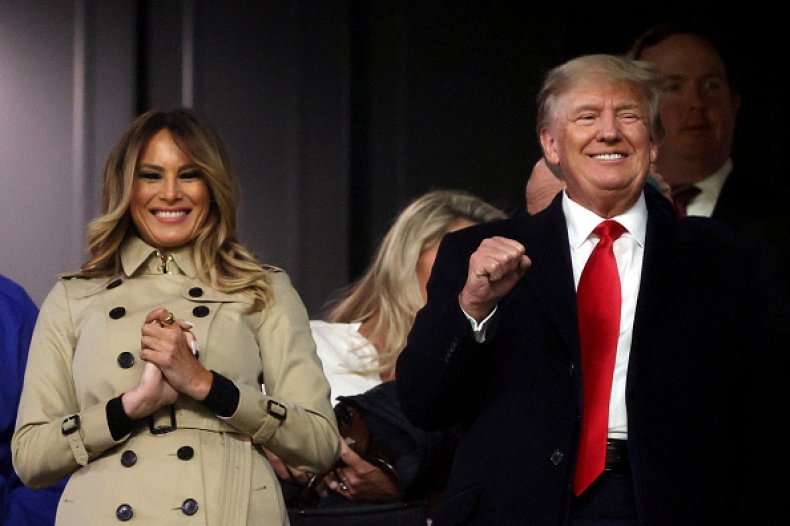 As fans yelled "Let's go Brandon" in Trump's direction on Saturday, the president looked like he was chuckling as he watched them and gently shook his head in approval.
A Major League Baseball (MLB) spokesperson said Trump requested to attend the World Series game. He was spotted hobnobbing with former running back Herschel Walker, who has announced he will run for the U.S. Senate in Georgia. Trump and Walker's friendship goes back to the 1980s when Trump was an owner of the New Jersey Generals in the now-defunct USFL.
MLB six months ago announced it would pull the annual All-Star Game from Atlanta after the state's legislation passed sweeping changes to its voting laws. MLB thought it was a good way to denounce the laws it deemed oppressive, and they moved the midsummer classic baseball game to Colorado, home of the Rockies.
The Atlanta Braves made it to the World Series, though, and they get to host three games of baseball's crown jewel.
The Astros hosted Games 1 and 2 since they had a better regular-season record. The Braves won the first game on Tuesday, and the Astros evened the series at 1-1 with a win on Wednesday.
The Braves took Game 3 on Friday in Atlanta, 2-0, and then won Game 4, 3-2, in front of the former president.
The Braves lead the best-of-7 series three games to one, needing just one more win to capture their first world title since 1995.
Game 5 is Sunday night in Atlanta. The first pitch is scheduled for 8:15 p.m. at Truist Park. Should the Braves win, the series will be finished. Should the Astros win, it would force a Game 6 on Tuesday night at Minute Maid Park in Houston. A Game 7 (if necessary) would be Wednesday night in Houston.
This is Houston's third trip to the World Series in five seasons. They defeated the Los Angeles Dodgers for the title in 2017 and lost to the Washington Nationals in 2019.