Video: Trump Resort Shootout Footage Shows Dramatic Encounter With 'Ready for War' Jonathan Oddi
Police in Miami have released body camera footage showing the dramatic moments before a shootout with a suspect accused of storming one of President Donald Trump's hotels and threatening several people with a gun while shouting "anti-Trump" rhetoric.
The Miami-Dade Police Department said it received "several" 911 calls of shots fired at the Trump National Doral Golf Club in Doral, Florida, on Friday at around 1:30 a.m. after suspect 42-year-old Jonathan Oddi allegedly entered the lobby, draped an American flag over a reception counter and began shouting about the president before opening fire.
Body camera footage shows an officer approaching the hotel as shots ring out.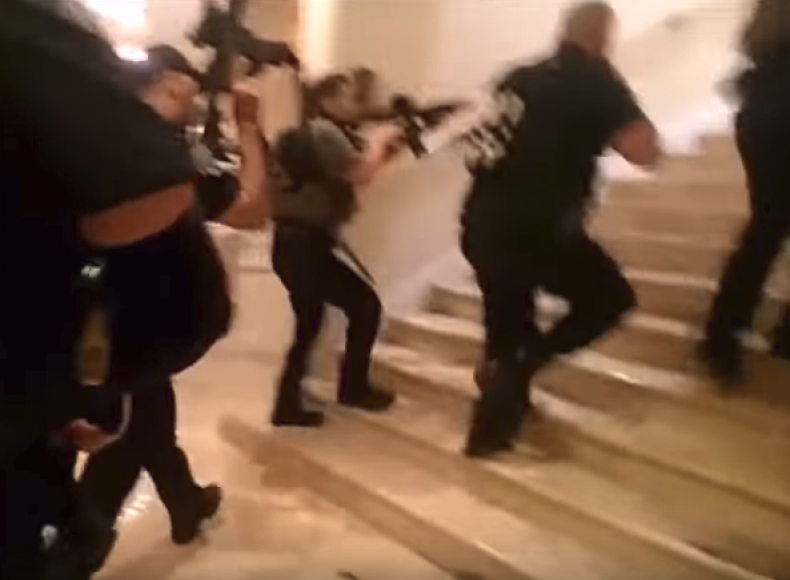 "Shot fired, shot fired," an officer shouts, as a dispatcher can be heard warning of an "active shooter." At least five officers can be seen making their way into the building with their weapons drawn, as shots continue to ring out.
The video ends there, but the Miami-Dade Police Department said a shootout with Oddi ensued.
"This guy was ready for war, he was waiting for our officers to come in," Miami-Dade Police Director Juan Perez told Miami radio station 610 WIOD.
The suspect was struck by at least one bullet in the exchange of gunfire and was transported to Kendall Regional Trauma Center where he received treatment and was later released for questioning, police said.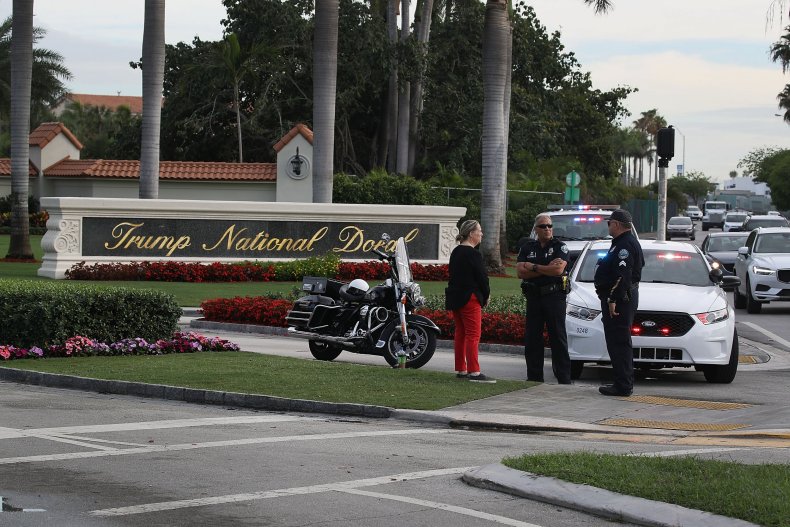 He has since been charged with five counts of attempted second-degree murder on a law enforcement officer, aggravated assault with a firearm, armed burglary with assault or battery, armed criminal mischief and armed grand theft.
Police say no patrons or hotel employees were injured in the shooting, but said a City of Doral police officer did sustain a possible wrist fracture.
It is still unclear what Oddi's motives were in carrying out the attack.
Read more: Who is Jonathan Oddi? Alleged Trump Resort Gunman is Porn Actor Who Adores First Lady Melania
The Miami Herald reported over the weekend that Oddi is a U.S. citizen born in South Africa who lists himself as a fitness instructor, real estate investor and manager at a gem and minerals company.
He also reportedly worked as a stripper for Dancing Bear, an adult entertainment company.
Oddi also appeared to be a fan of First Lady Melania Trump, sharing a photo of her on Instagram with the caption: "#flotus rocks! She sets the example of mannerism. She counters Trumps aggressiveness."
He had also previously "liked" a number of the U.S. leader's tweets, including posts attacking CNN and "fake news."