Video: Trump Slams New York Times Op-ed, but Struggles to Say 'Anonymous'—Twice
A tirade by President Donald Trump's against the "failing" New York Times lost some of its impetus when he tripped up on a crucial word.
Trump used the rally in Billings, Montana, on Thursday to lambast the newspaper for publishing an op-ed by a White House insider outlining how officials and staff members were actively trying to curb the president's "worst inclinations."
But when it came to describing the unnamed author of the piece, which paints the White House as being in a state of disarray, Trump got a little tongue-tied.
"The so-called resistance is angry because their horrible ideas have been rejected by the American people and it is driving them crazy," Trump said at the rally, which aired on TV.
"The latest active resistance is the op-ed published in the failing New York Times by an anom-oni-ss, really an anom-in-iss gutless coward," he said slurring the word "anonymous."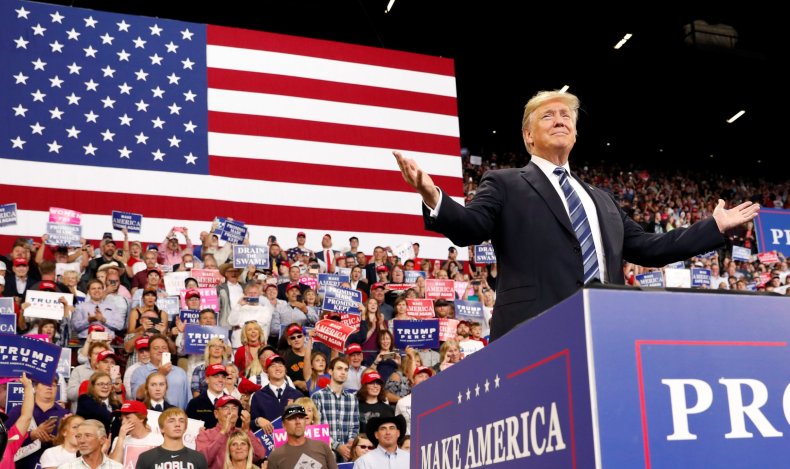 "Nobody knows who the hell he is, or she although they put he, which is probably a disguise, that means it's she. For the sake of our national security they should publish his name at once. I think their reporters should investigate who it is, that would actually be a good scoop."
Trump was campaigning on behalf of state auditor Matt Rosendale, who is challenging incumbent Democratic Senator John Tester for a Senate spot.
Trump went on to say that "unelected, deep-state operatives who defy the voters to push their own secret agendas are truly a threat to democracy itself."
The identity of the columnist is the subject of much speculation. White House press secretary Sarah Sanders tweeted the number of the newspaper's opinion desk to ramp up pressure on the publication.
Read more: Who wrote the New York Times anonymous editorial? Here are the main suspects
The highest-ranking officials in Trump's administration have denied involvement, including Vice President Mike Pence, Secretary of State Mike Pompeo and most of Trump's Cabinet.
Trump has repeatedly said that the article was treasonous, although treason is defined in the U.S. Constitution as acts that help countries that the U.S. is at war with, or an American citizen trying to stir up military action against the U.S.
Republican Senator Lindsey Graham said: "This is not treason under the Constitution. This is not a treasonous act against the nation. This is a disloyal and cowardly act against the President," the Hill reported.
The claims put forth in the op-ed came a week before the release of Watergate journalist Bob Woodward's book, Fear: Trump in the White House, which chaos and dysfunction in the Trump administration.