Video: Tucker Carlson Regrets Attack on Joe Biden, Backs Former VP—'Eskimo Kisses Are Not Rape'
Fox News host Tucker Carlson became an unlikely defender of Joe Biden, apologizing for his network's coverage of claims by women that the ex-U.S. vice president had made inappropriate physical contact with them.
Carlson started his show on Wednesday by saying that there was no lawsuit forcing him to do it, and that "we're sincere" in the apology.
Clips were then played of women accusing Biden of unwanted physical contact. One showed Lucy Flores, a politician in Nevada, alleging that Biden had kissed the top of her head.
Another accuser, Amy Lappos, said the former vice president pulled her in and started rubbing noses with her, in what was described as an Eskimo kiss.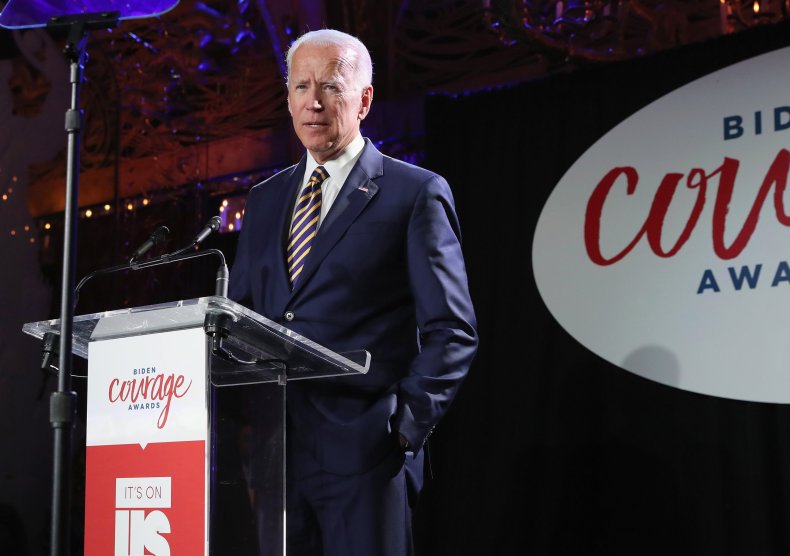 Carlson then said another two other women came forward, one accusing him of "hugging her a little too long." This was followed by a clip of Biden apologizing in a video posted to social media in which he said "the boundaries of protecting personal space have been reset. I get it. I'll be much more mindful, that's my responsibility and I'll meet it."
But Carlson described it as "sad" and "pathetic" that a 76-year-old man was forced to apologize "for not understanding selfie culture."
Carlson said: "They drove him to it. And so did we. And that is the point of tonight's apology. When the story first broke, passing out Eskimo kisses and sniffing other people's hair, it was irresistible and you couldn't not laugh at it."
He admitted to mocking Biden before issuing his mea culpa for following the lines of other media outlets.
"What we should have said every bit as loudly and what we apologize now for not saying is that hugging is not sexual assault. Eskimo kisses aren't rape. That used to be obvious. It's not obvious anymore. And so we are sorry for helping to blur the distinction between human affection and coercive immoral behavior.
"The last thing this country needs is more aggrieved people that think they are assaulted because a senior citizen hugs them wrong. So we apologize for adding to that nonsense and anti-human hysteria," Carlson said, according to Mediaite.
None of the women accuse Biden of making unwanted sexual advances, simply that the unprompted physical contact was a violation of their personal space.
Democrats have yet to say Biden's behavior should preclude him from running in 2020 as he weighs up whether to run. House speaker Nancy Pelosi told Politico: "I don't think it's disqualifying."
"He has to understand in the world that we're in now that people's space is important to them, and what's important is how they receive it and not necessarily how you intended it," she said.