Video: Two Women Brawl in Middle of Massachusetts Highway After Road Rage Incident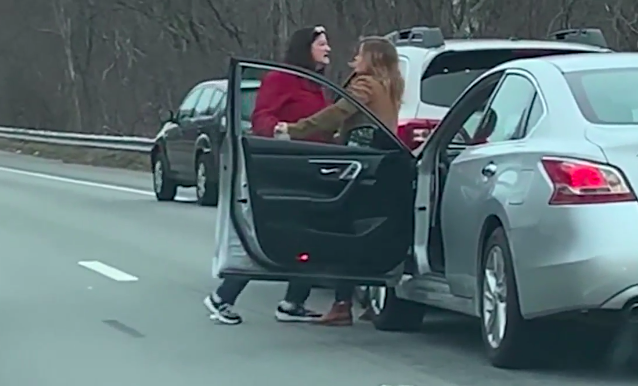 Two women fist-fighting in the middle of a Massachusetts highway after a road rage incident this week were caught on camera by onlookers.
A video of the incident, which happened on Friday morning at roughly 10 a.m. along Route 128 in Danvers, Massachusetts, showed two women, clearly frustrated while driving, getting out of their respective cars to engage in a fist-fight with each other. "Get off me!" one of the women can be heard yelling.
The 33-year-old Gloucester woman and 64-year-old Beverly woman, whose identities have not been publicly released, exchanged multiple punches and slaps before the video cuts off. Another driver reportedly stepped in to diffuse the situation after the video ended.
"In the middle of the highway, too, that's what, like, threw me off," a witness of the incident said. "I was like, 'Is this really going on?'"
According to the Massachusetts State Police, the feud appeared to have been started after one driver inadvertently cut the other off on the road. Danvers station commander Lt. Michael Harvey told KTRK that neither women was injured in the fight but if the brawl had escalated, it could have been "dangerous."
"There are ways to settle disputes," he added. "It doesn't have to be in the middle of the highway."
Authorities confirmed that no charges have been filed but said some are currently being considered pending consultation with the Essex County District Attorney's Office.
Katherine DeLeo, the bystander who recorded the video, told WHDH that the scene shocked her. "I go to the gym every morning," she said. "I've never seen anything like that."
The incident comes two months after Massachusetts police arrested two suspects involved in another apparent road rage incident, which left one man clinging to the hood of the car while it drove down a freeway for three miles.
The January incident, which involved Mark Fitzgerald, 37, and Richard Kamrowski, 65, was also caught on video and published by local media outlet NBC10 Boston. The two men were subsequently detained after a minor side-swipe collision spiraled out of control and led to the potentially deadly situation.