VIDEO: U.S. Air Force Jets Sitting on Tarmac in NATO Member Poland
The U.S. Air Force recently released video showing U.S. F-15E Strike Eagle fighter jets sitting on the tarmac at Łask Air Base in NATO member state Poland, conducting ongoing NATO Enhanced Air Policing sorties.
The powerful military alliance is still declining to set up a no-fly zone over Ukraine amid a worsening Russian invasion that began on February 24.
Lask Air Base is located in central Poland, near the city of Lodz, some 236 miles (380 km) from the western Ukrainian city of Lviv.
The footage was shared by the U.S. Department of Defense on March 21, though it was filmed March 10, along with a statement noting the video shows aircraft from the 336th Fighter Squadron assigned to Seymour Johnson Air Force Base, North Carolina.
"The NATO rotation allows integrated training between joint and combined Allied forces to enable forces to meet the needs of a dynamic security environment," the statement said.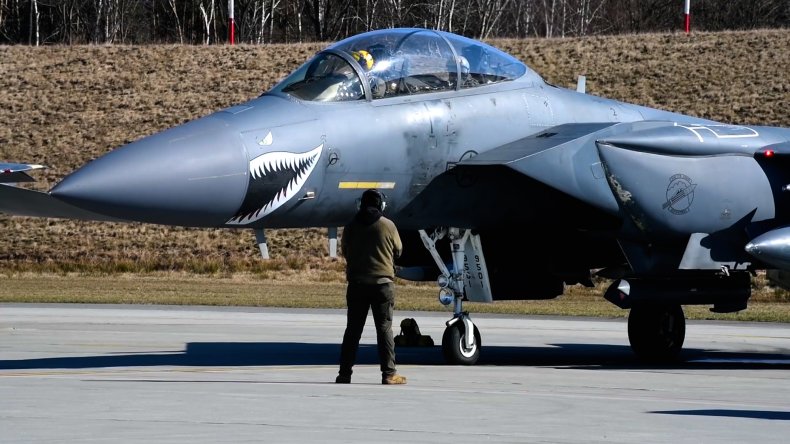 Enhanced Air Policing, which is a continuous 24/7/365 operation, was introduced in 2014 as part of NATO's Assurance Measures after Russia's annexation of Crimea, according to NATO Allied Air Command.
"The Alliance implemented these Assurance Measures with the goal to demonstrate the collective resolve of Allies, demonstrate the defensive nature of NATO and deter Russia from aggression or the threat of aggression against NATO Allies.
"They are flexible and scalable in response to fluctuations in the security situation facing the Alliance and send a strong, unambiguous message to the public," the alliance says.
NATO member states are still declining to set up a no-fly in Ukraine, which is not a NATO member, over fears that this could trigger an uncontrolled escalation resulting in potentially nuclear conflict with Russia, causing further devastation.
NATO is currently made up of 30 countries. It was originally founded by Belgium, Canada, Denmark, France, Iceland, Italy, Luxembourg, Netherlands, Norway, Portugal, the United Kingdom, and the United States.
Russia has changed strategy and is targeting more civilian infrastructure in an apparent bid to break Ukrainian morale, after the Kremlin's planned invasion became bogged down when met with staunch resistance.
The secretary-general of the United Nations, Antonio Guterres, said Tuesday that it was time for a diplomatic solution to be found to end Russia's invasion of its neighbor, amid signs of hope that progress can be made to end an "unwinnable" and "indefensible" war.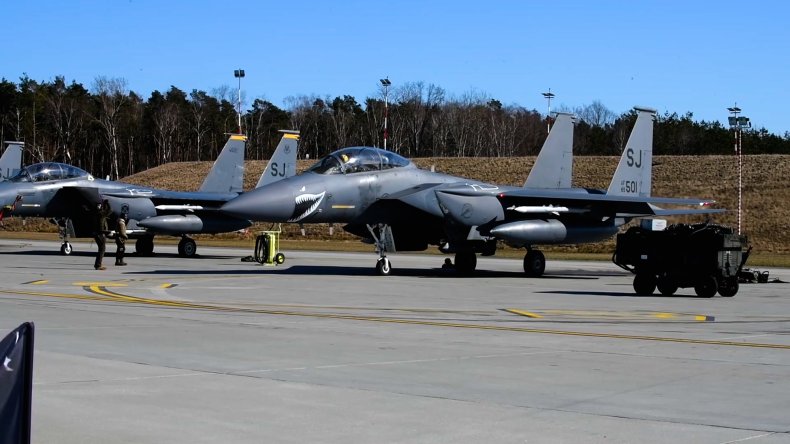 The U.N.'s International Court of Justice ruled that Russia's invasion of Ukraine is illegal and has ordered Russian President Vladimir Putin to remove his troops immediately. Former British Prime Ministers Sir John Major and Gordon Brown have called for the creation of a Nuremberg-style international tribunal to investigate Putin.
The proposal has been co-signed by intellectuals and academics, as well as Ukrainian Foreign Minister Dmytro Kuleba and Benjamin Ferencz, who is 102 years old and prosecuted Nazi war criminals at Nuremberg.
The Office of the United Nations High Commissioner for Human Rights has confirmed that a total of 953 civilians had died in the war as of March 21, including 78 children, but noted that the real numbers could be much higher.
This story was provided to Newsweek by Zenger News.