Utah Mormon Man Caught in Venezuela Prison Riot Begs U.S. for Help
An American held at a crowded detention center in Venezuela's capital, Caracas, has begged for help on social media after inmates started a riot on Wednesday demanding freedom for political prisoners, just days ahead of presidential elections in the country.
"I need help," Mormon missionary Josh Holt said in the first of two short clips uploaded to his Facebook page. The 25-year-old appeared frantic as he called on the American people to help him get of the jail where, he said, "people have taken over the entire prison" and "they're saying they want to kill me, they say they want me as a guarantee."
He also wrote two messages in which he said he feared for his life. A video posted on the Twitter account of a political movement opposing to President Nicolas Maduro on Wednesday afternoon shows a group of men identifying themselves as political prisoners saying they stormed El Helicoide ("the Helix"), the notorious headquarters of the country's secret services (Sebin) where hundreds of people are detained, demanding freedom and rights to political prisoners.
A prisoner called Gregory Sanabria appears in that video, his face badly beaten, allegedly by the guards. "We'd rather die with dignity. We'd rather die with pride and with the sense of living life with integrity," Sanabria, a student arrested in 2014 during anti-Maduro demonstrations, tells the camera.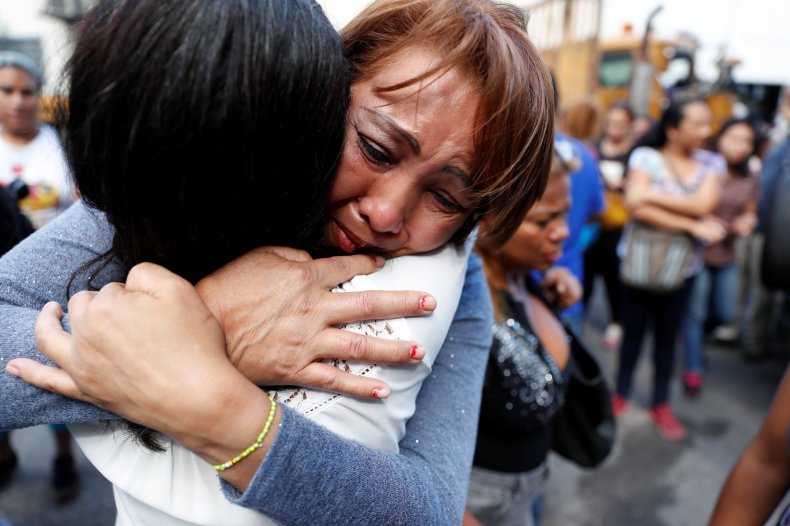 Another man in the video is Daniel Ceballos, a former mayor of Caracas who was detained in 2014 accused of encouraging anti-government protests. A Twitter page in Ceballos's name published a new video of Holt on Thursday morning in which the once again addresses the U.S. government, lawmakers and his family.
"Please don't leave me alone here. Please come and save my wife, myself and [inaudible] people who need help here. I love my family and I want my family to know I'm ok and no one is doing any harm to me," he said.
Holt traveled to Venezuela to marry his fiancée, fellow Mormon and Venezuelan citizen Thamara Candelo. He moved in with her in the outskirts of Caracas while they waited for her visa to arrive so they could move to the U.S. with her two daughters, NPR reported last year after speaking to Holt's mother. The couple was jailed in June 2016 after police raided their apartment and accused them of belonging to a paramilitary gang.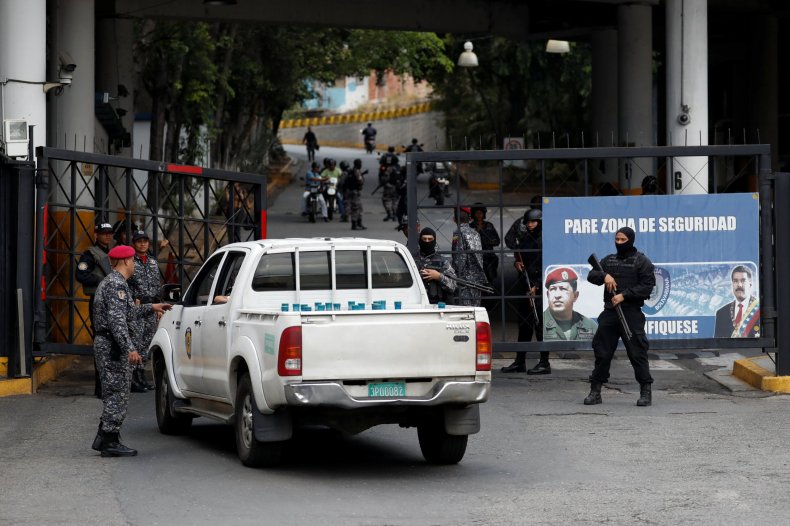 The Venezuelan government has so far remained silent about what exactly happened in the prison. The country's chief prosecutor Tarek William Saab said in a statement posted on Twitter on Wednesday that a delegation from the prosecutor's office was sent to the prison to speak to the prisoners and address their requests. No further update was given.
Venezuelan human rights activitst Lilian Tintori was outside the prison on Wednesday with other families of the inmates who worry about their conditions. The authorities were unable to provide any answers to prisoners' families and their lawyers, she wrote in a tweet on Wednesday evening. Earlier in the day, she posted a picture of Sanabria saying the inmates were suffering from physical torture.
The U.S. Embassy in Venezuela also said in a statement Maduro's government failed to provide any answers about the riot. "We're very worried about the riot in El Helicoide. Joshua Holt and other American citizens are in danger. The Venezuelan government is directly responsible for their security and we will hold it responsible if something happens to them," the embassy wrote in a statement in Spanish published on Twitter on Wednesday.
Maduro, who succeeded Hugo Chavez as president in 2013, is bidding for reelection on Sunday. Two of his main political opponents, Tintori's husband Leopoldo Lopez and Henrique Capriles, are barred from running, leaving Henri Falcon to take the role of main challenger to the Socialist leader.
Maduro's five-year rule has been marked by a devastating economic downturn leading to severe shortages of food, medicine and basic goods. Thousands of people took to the streets to protest government corruption and worsening living condition. The marches that began in 2014 never quite subsided, culminating in 2017 with massive street demonstrations held for months in 2017. These were met with a particularly brutal crackdown, resulting in the death of more than 150 people.