Video: Man Spitting in Pizza at Detroit Tigers Baseball Stadium Goes Viral As Authorities Seek to Press Charges
Footage has emerged of a ballpark hospitality worker spitting on pizzas meant for to customers.
The video was uploaded to Instagram on Saturday and shows the employee spitting onto the pizza base before lathering it in sauce. The footage has since gone viral and officials say the man no longer works at Comerica Park. Comerica Park is home of the Detroit Tigers Major League Baseball team.
The video was shared by _nellmay and was accompanied by a lengthy rant against aimed at the ballpark. "I was sent home early today because I didn't have on my Comerica Park shirt and they say I was at the bathroom for too long," they wrote. "So they yelled at me and told me to go home. But since they made me go home early I couldn't wait until after the game to tell them an employee was spitting in customer pizzas!
"The customers don't deserve this! This is disgusting! And for the company to threaten me and let me go for exposing this video to the fans is also disgusting!"
According to WXYZ Detroit, the incident took place on Friday, during a game between the Tigers and the Kansas City Royals. A spokesperson for the stadium told WXYZ Detroit that the kiosk was promptly closed. "As soon as we became aware through social media of potential food tampering Friday night, we immediately closed that food stand and disposed of all the product," the spokesperson said. "Food safety is our top priority and we will take any appropriate action necessary to protect our guests."
The Detroit Tigers did not immediately respond to a request for comment.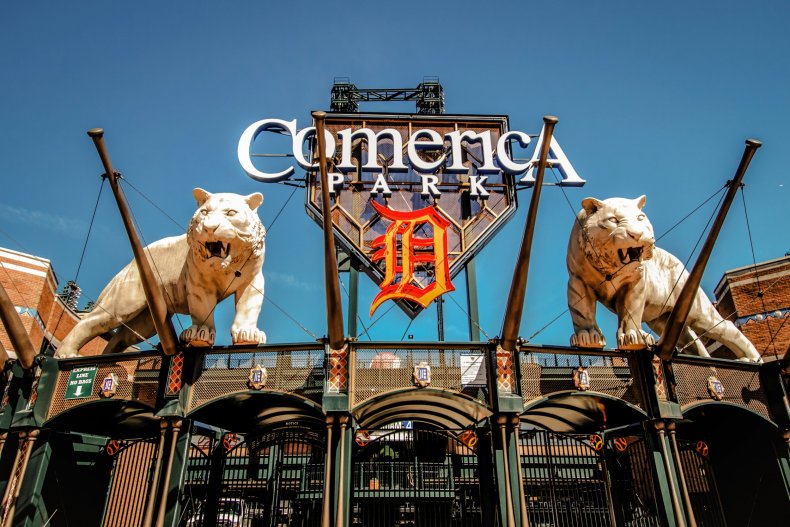 In a similar story, a Pita Pit restaurant worker in Montana was recorded spitting in customers' food earlier this year. The woman, who lost her job, was goaded into spitting into the food by customers. The mouthy customer can be seen trying to jump across the counter to grab the food, but before she can the employee grabs it and throws it at them.
In a post on Facebook, the husband and wife owners of Pita Pit issued a heartfelt apology. "We are shocked and saddened by the early morning incident that took place in our restaurant. We have been unable to reach out on Messenger and apologize personally to the guest who posted about it. We would like to publicly do so now."
You can read the full apology here.