Video: The View Host Whoopi Goldberg Loses Cool with Judge Jeanine Pirro 'Say Goodbye'
Whoopi Goldberg, co-host of ABC's daytime talkshow The View, lost her cool live on-air at guest Judge Jeanine Pirro who featured in an episode yesterday to promote her new book Liars, Leakers, and Liberals: The Case Against the Anti-Trump Conspiracy.
On Thursday, the clash occurred during the show's Political View segment when the two engaged in a heated discussion about their opposing political beliefs. Pirro, 67, escalated the disagreement after she told Goldberg, 62, that she had "Trump Derangement Syndrome."
"There have been a lot of people in office that I didn't agree with, but I have never, ever seen anything like this," Goldberg said.
"I've never seen anybody whip up such hate. I've never seen anybody be so dismissive," she continued. "And clearly you don't watch this show. You don't know that I suffer from that, what I suffer from is the inability to figure out how to fix this. That's my issue."
The two women then argued loudly with each other about immigration before Goldberg suddenly snapped and told Pirro to leave. "Say goodbye, goodbye. I'm done," she said firmly.
The other hosts at the table, including Sara Haines, Meghan McCain, and Sunny Hostin, sat quietly and did not interrupt the argument. After Goldberg's last words, one of the hosts stepped in and thanked Pirro for her appearance before stopping the segment with a commercial break.
When the show came back, Goldberg apologized for her behavior. "So, you saw me do something that I very rarely do, I very rarely lose my cool and I'm not proud of it. I don't like it," she said into the cameras. "But I also don't like being accused of being hysterical because that's one of the things I try not to be on this show."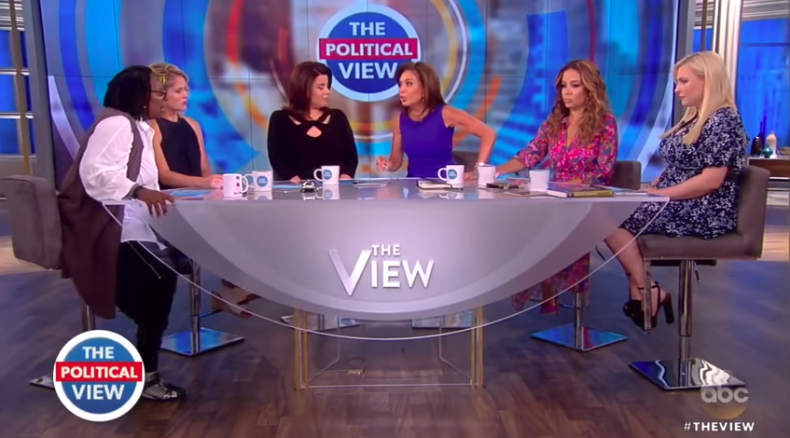 Former judge Jeanine Pirro is now a Fox News personality. She has her own show on the network called Justice with Judge Jeanine.
The term "Trump Derangement Syndrome", which was inspired by "Bush Derangement Syndrome," is used by Trump supporters to accuse those who do not support the president as unable to think clearly and logically.
An anonymous source, reportedly close to the show, told People in the aftermath that Pirro "walked into the studio ready for a fight because Ana [Navarro] was the guest co-host."
"[Pirro] was yelling at one of The View producers before the show and was upset with her own team from the start," the source said.
Newsweek has reached out to ABC's The View for comment.