Video Viewed 37M Times Kicks off TikToker's Hilarious Series Hanging Random Items on Tree
A TikTok viewed 37 million times showed a Christmas tree decorated with cascading light blue ribbon and blue and silver ornaments before a tampon was gently placed on one of the branches.
"Adding things to my mom's tree until she notices," the text read over TikTok user Mika's video. It was posted to her account, @ihatewinter_24.
TikTok viewers were delighted with the sneaky and subtle prank.
"It's all fun and games until the tree develops toxic shock," a commenter joked.
One shared it wouldn't be likely that they would be able to get away with adding some bonus baubles on their own tree.
"My mother would know if I breathed near her tree," they commented.
Another agreed and said their mother would also immediately know if someone fussed with the Christmas tree.
"She's obsessed with her decorations," they claimed.
The video, originally posted on November 30, led to additional suggestions and requests for what Mika should adorn the tree with next.
A viral series was born and Mika took some suggestions from the commenters. In her next video, she balanced a toothbrush on tree branches. Over the course of 16 days, Mika filmed herself placing the odd objects on the tree, including a face mask, a pair of glasses and an empty toilet paper roll.
Each of these videos received at least 70,000 views, but many of her videos earned more than 100,000 views.
"I kind of hope she doesn't notice and when she goes to take the tree down she finds all the stuff and is baffled," a commenter wrote.
One wrote that while they wanted the series to continue to see what other random items Mika can sneak onto the tree, they also wanted the TikToker's mother to find everything.
Her mother caught on to the new decorations after 16 days, and Mika uploaded a video showing items spread out on her bed.
"Sorry guys it's the end of an era," the text over her latest video read.
While many items were plucked from the Christmas tree, Mika noted her mother may have missed some of the additional ornaments.
The viewers applauded her for her dedication to the series and for not getting caught for as long as she did. One even gave her an idea for a new series.
"Start taking stuff off till she notices now," the commenter wrote.
Newsweek reached out to Mika for further comment.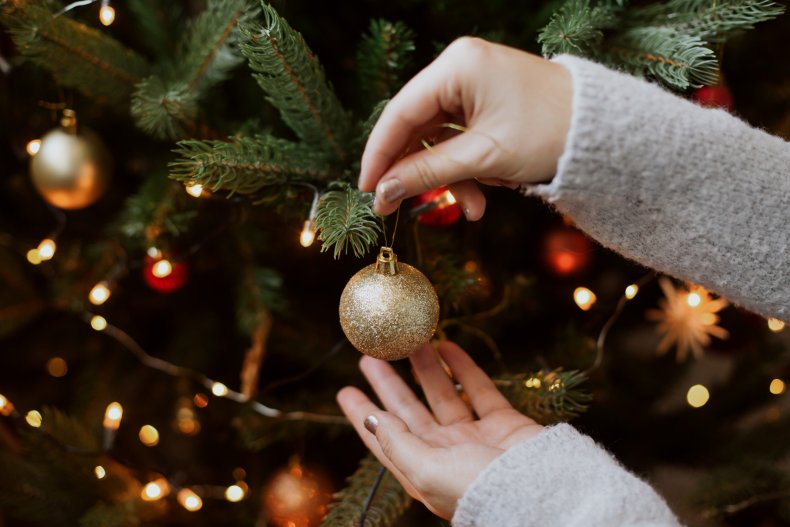 While Mika added her personal touch to her Christmas tree, Newsweek reported on what the experts recommend when decorating one.
Having an idea of what the tree should look like can also be helpful, thick ribbons can be a stylish touch and hiring professionals can take some stress off of those looking to get into the holiday spirit, according to decorating experts.