Video Viewed Over 2M Times Shows Royal Guard Stomping on Child, Causes Online Uproar
A video has gone viral this week showing guards at the Tower of London trample over a young child while marching through the grounds.
The video, posted by @user7312510220627 has been viewed over 2 million times and received thousands of comments.
As the two guards march side by side, a young child appears to step in front of them. The guard walks right into the child, knocking them to the ground, and then steps over and continues to walk without pause.
"I know it's their prehistoric job to walk like that, but that doesn't excuse them committing common assault on people in public places," one commenter said.
According to the website for Historic Royal Places, there are five regiments of guards that perform ceremonial public duties at the Tower of London, Buckingham Palace, St. James's Palace and Windsor Castle.
The guards at The Tower of London stand outside the "The Jewel House" and the "Queen's House" to protect crown jewels and "ensure the security of the Tower of London."
"The Crown Jewels" refers to coronation regalia which has been stored in the Tower of London since the 1600s, according to the site. Visitors to the tower can view the regalia along with other crowns and robes belonging to the kings and queens of England from the last 600 years.
The website for Historic Royal Places outlines that visitors to the Tower of London "are advised to be respectful and stand clear when the guards are marching and performing their official duties."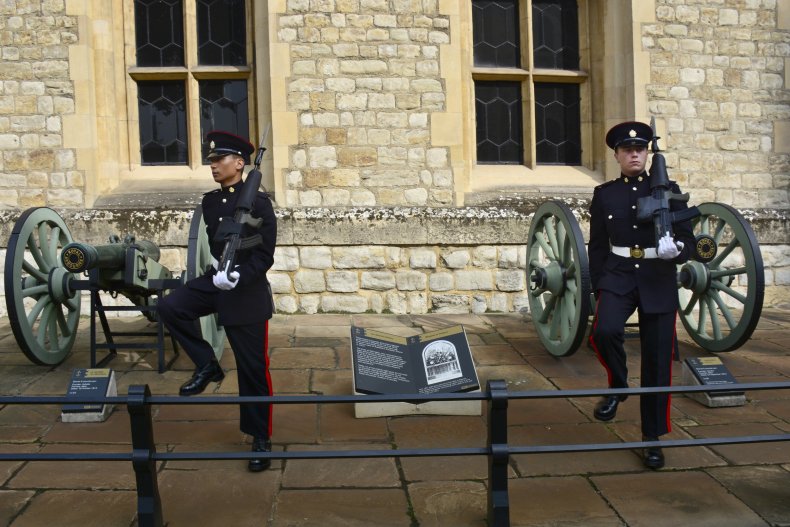 In the viral video, people are heard gasping as the guard makes impact with the child and an adult quickly rushes to the child as the guard continues to walk away.
"People defending 2 grown men stepping on a kid," one commenter said in response to those saying the guard's actions are justified as part of their "job."
"My sister used to be a royal guard and she had so many stories about people harassing her," another commenter added. "It's literally their job and they have to be like that."
In a statement to LADBible an Army spokesperson, from the Ministry of Defense, said they had been made aware of the incident.
"The Guardsmen on duty warned members of the public that a patrol was approaching but the child unfortunately ran out in front of the soldier unexpectedly. The soldier tried to step over the child and continued on his duty.
"Following the incident, the soldier checked on the child and was reassured that all was well."