Video: Viral Video Shows Bald Eagle Landing on Minnesota Firefighters' 9/11 Tribute: 'We're Getting Calls From All Over the Country'
A group of firefighters received an "unbelievable" visitor during their tribute to those killed on 9/11, in the form of America's most patriotic animal—the bald-headed eagle.
The event took place in Coon Rapids, Minnesota, where Andover Fire Department Chief Jerry Streich was in the midst of preparing proceedings for the Twin Cities ceremony, during which officers posted American flags and a banner that read "We Will Never Forget" from Main Street's overpass. Streich witnessed a curious sight across the road and took out his phone to film it.
"Hey guys, we are out here live on the highway 10 bridge," Streich said, before pointing the camera towards an aerial truck that had arrived with firefighters from nearby Ramsey, who also came to pay their respects. "I want to show what's going on here on the bridge. Look what landed on top of the aerial on 9/11."
The shaky camera appeared to show a large white-headed bird of prey, perched on top of the service vehicle, surveying the ground below where the ceremony was due to take place. "Isn't that unbelievable?" Streich exclaimed. "This eagled just landed on the aerial while we are doing the 9/11 memorial. Phenomenal! We are all set up here. Nobody forgets. There goes the eagle."
After less than a minute, the bird burst into flight and headed east. The moment had already left a huge impression on everyone gathered on the ground and soon after it went live on Facebook, Streich's video went viral. The clip had well over two million views on the social media site within less than a day, with around 18,000 likes and 21,000 comments.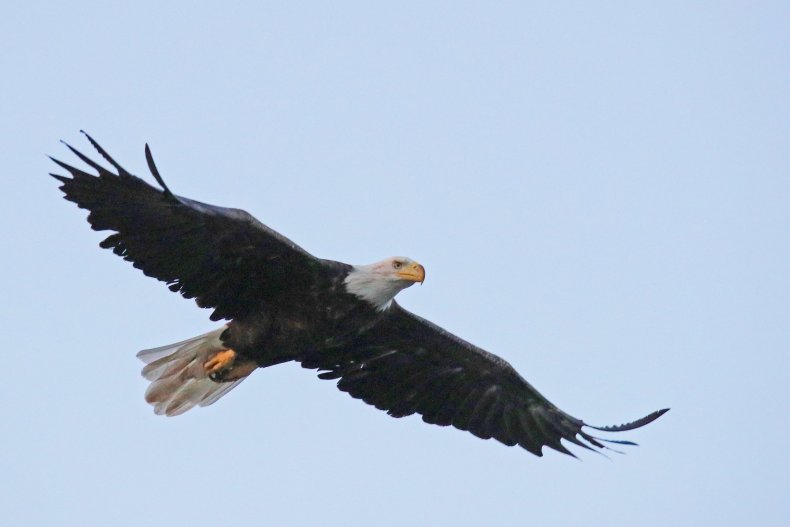 "We're getting calls from all around the country," Streich told local publication the Star Tribune. "Thanks for sharing! What could be more symbolic for this day?," the Andover Fire Department wrote in the video's caption, urging people to share it. The resonance was welcomed by some of those who were there to witness the moment first-hand, expressing hope that the memorial service will be a tradition for many years to come.
"It was like something sent from heaven" Gary Gliniary, a veteran of the U.S. Navy, told Fox 9. "It really was really inspiring to see this eagle come down, and it was kind of like giving us a salute. This is really important to me to be here and I hope there are generations that will continue to do this when we're gone."