Video of Putin's Constant Leg Movements Sparks More Health Speculation
A video of Vladimir Putin's fidgety legs has caused a stir online after months of speculation about the state of his health.
Clips from a meeting between Putin and his Belarusian counterpart Alexander Lukashenko showed the Russian leader constantly moving his legs and feet, sparking reactions which ranged from mockery to medical diagnosis.
"Is this Morse code?" tweeted Ukrainian internal affairs advisor Anton Geraschchenko next to the clip of the shuffling feet, which as of Saturday had been viewed more than 4.7 million times. Twitter user Luis da Cruz also made fun of the movements, tweeting that Putin was trying to send out the message that "guys, I love to dance American Rock'n'Roll!"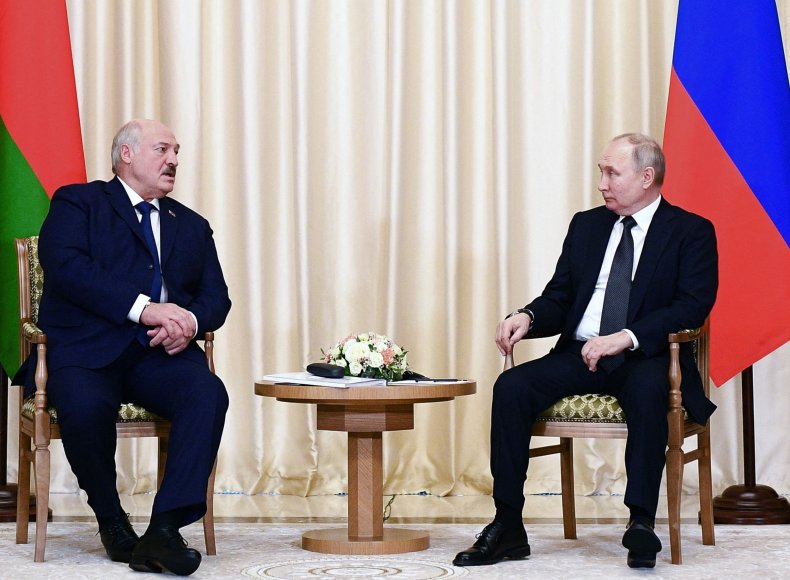 But more diagnostic assessments of the movements also appeared, such as from news outlet Visegrad which tweeted next to the video, "looks like something is wrong."
Twitter user Tendar, who has 140,000 followers and frequently shares updates about Ukraine and Russia, tweeted how Putin had a "continuing problem to control his legs and arms," during the meeting with Lukashenko. "This man is medically sick. Russia's losing war will most certainly expedite his worsening condition."
Another Twitter user wrote that "when he's in Russia his legs are always under a table or desk and he holds the desk or a pen to hide the tremors... he's exposed in this chair so he can't hide it."
User Adin of Crimea suggested that having "cared for (a) father that died with Parkinson's, I can attest it looks like later early stages, but you be the judge," adding, "whether restless or medical, it's not normal behavior on world stage."
Parkinson's disease, which can cause dystonia, or muscle twisting, spasm or cramp, is a diagnosis for Putin that has bandied about for some time, most recently this month by the former head of Britain's MI6 Sir Richard Dearlove in an interview with British publication, The Sun.
Since the start of his full-scale invasion of Ukraine there have been numerous reports that Putin has cancer, Parkinson's disease or both, although the Kremlin, which Newsweek has contacted for comment, has repeatedly stated that the Russian leader is in good health.
Western intelligence agencies have long suspected that Putin suffers from ill health and rumors about the Russian president have persisted over the last few months, such as when he had a listless right arm during a visit to Tehran in July.
When asked by ABC News last month if Putin was terminally ill and would die very soon, Kyrylo Budanov, Ukraine's military intelligence head said: "Of course."