Video: Volcano Eruption at Indonesia's Mount Sinabung Sends Ash and Hot Clouds of Gas Into the Air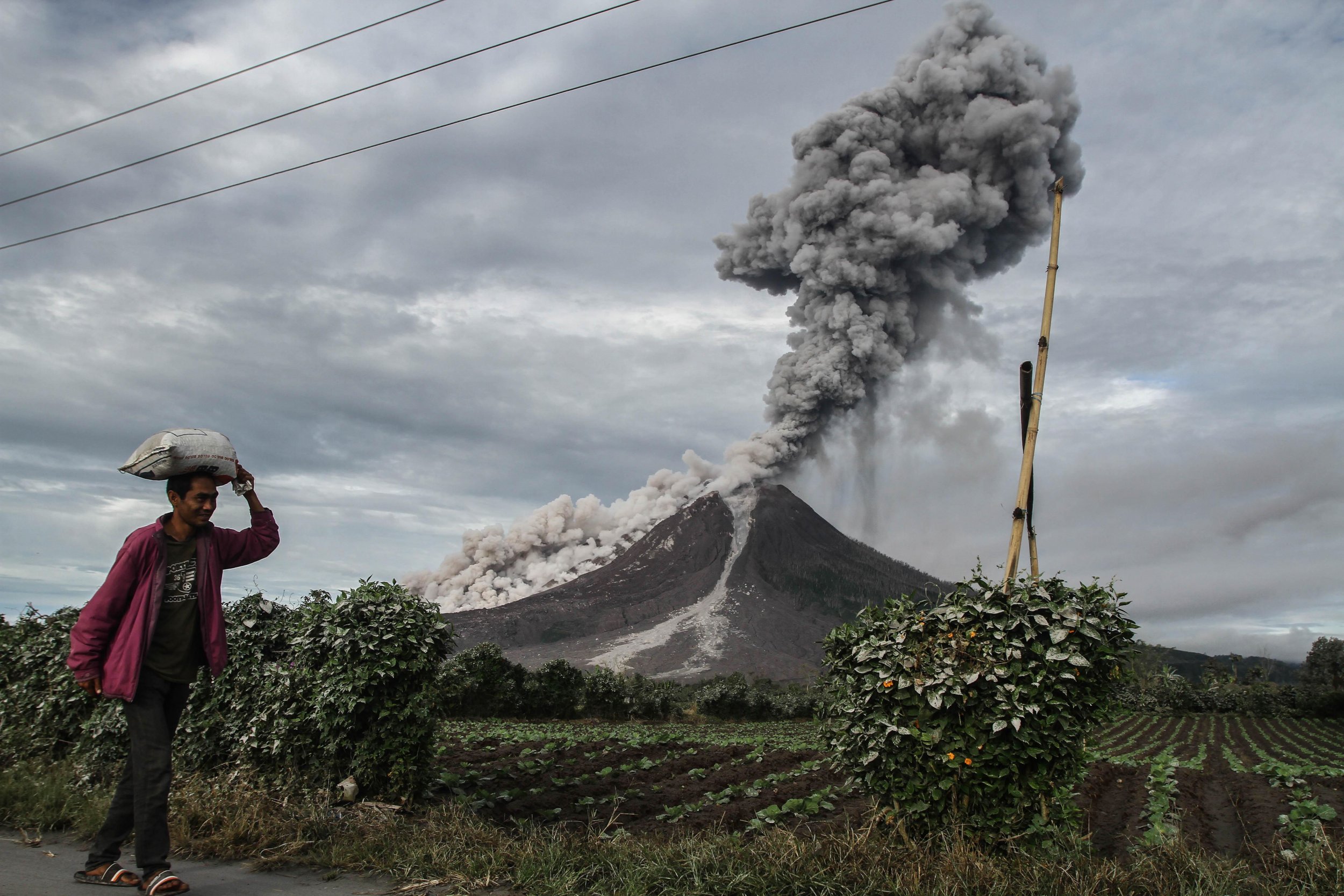 Indonesia's Mount Sinabung volcano erupted on Wednesday in its largest eruption of the year—with clouds of gas and ash spewing into the sky, as seen in a video of two people driving by the scene. The eruption was "the biggest eruption this year, given the reach of the pyroclastic flow and the size of the area covered by the ashes," Nata Nail, local disaster agency head, told Agence France-Presse.
There were no severe injuries or causalities, as the danger zone surrounding the volcano was evacuated earlier, according to Sutopo Purwo Nugroho, a spokesman for Indonesia's disaster mitigation agency. Thousands, however, were affected by the spewing ash. The ash destroyed hundreds of farmers' crops. The eruption lasted over eight minutes on Wednesday around 3:30 p.m. local time.
There was no public panic since Mount Sinabung in North Sumatra erupts nearly everyday, Indonesia's disaster agency said. Ash continued to spew Thursday and Friday, which is common for the volcano. Another eruption occurred Thursday lasting around seven minutes long, according to Indonesia's Multiplatform Application for Geohazard Mitigation and Assessment (MAGMA). Friday, there were two eruptions lasting around 90 seconds and seven minutes each.
The ash from Wednesday's eruption spread to various villages and the government recommended that people not engage in activities within a radius under two miles wide surrounding the peak. People who live near the rivers were advised to be aware of the threat of cold lava, which increases the risk of overflowing rivers during the rainy season, the South China Morning Post reported.
Mount Sinabung is no stranger to volcanic eruptions. After four centuries of sleeping, the 8,000-foot tall volcano awakened in 2010. Most recently, a May 2016 eruption left seven people dead, and a February 2014 eruption killed 16. The once-sleeping giant has displaced over 3,000 families since it began erupting regularly, according to AFP. In the 2016 eruption, the seven victims were from the Gembar village in the western province of North Sumatra, which was in a 2.5 mile danger zone, reported CNN at the time.
Mount Sinabung is around 2,000 miles from another active volcano: Mount Agung in Bali. That volcano erupted last weekend, spewing ash clouds around 8,000 feet above the summit on Saturday. It continued to erupt into Sunday, according to MAGMA Indonesia.
Mount Agung caused a flurry of concerns for Americans traveling in Bali in November when the active volcano spewed ash nearly 20,000 feet high. Tens of thousands were evacuated from a 7.5-mile exclusion area around the crater of the volcano in September.
Volcanic activity is common along the Pacific Ring of Fire, a region where tectonic plates meet, causing earthquakes and volcanoes, according to volcano scientists who wrote about six key volcanoes they're watching in 2018 in The Conversation. On a given week in 2017, there were between 14 and 27 volcanoes erupting around the world. Indonesia alone has 139 active volcanoes, of which 18 have raised alert levels.