Video of Walmart Employee Increasing Price Tag 350 Percent Sparks Outrage
A Walmart worker appeared to be caught on camera switching the price tag under a salad dressing from $2.24 to $7.88, an increase of more than 350 percent.
The viral video of the employee was shared by TikTok user @devious_love, who goes by Shawn Connor. It has garnered 2.8 million views since it was posted last week, with viewers debating reasons for such an egregious price hike.
"That must be the Russian dressing," the top comment quipped, making a reference to the sanctions that the United States and its European allies have imposed on Russia since the country invaded Ukraine on February 24.
Some comments blamed the alleged price increase on inflation, while others accused Walmart of "price gouging" and "corporate greed."
One viewer dismissed the horrified outcry, theorizing that the worker was simply switching price tags in preparation for a different set of items to be placed in the aisle.
"He's probably making a new planogram and something else is going to go on that shelf," the skeptic wrote.
Still, the intense reaction to Connor's video is an indicator of the panic that U.S. consumers are feeling over rising prices.
After President Joe Biden announced a ban on imports of Russian energy to the United States on Tuesday, the average national price for a gallon of gasoline reached $4.17, according to the American Automobile Association (AAA). This surpassed the previous record high of $4.11 in July 2008, without adjusting for inflation.
The National Grocers Association has said that higher fuel prices may lead to higher prices across the supply chain, due to the increased costs of transportation.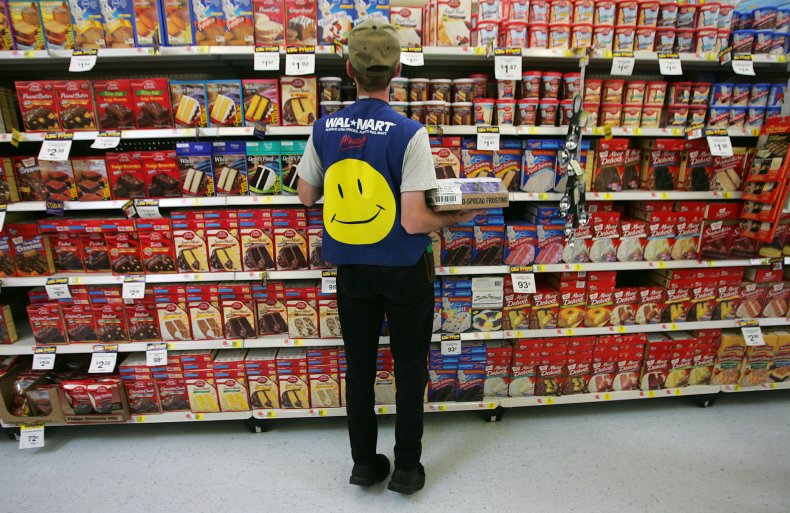 Even before the Russian forces' full-scale invasion of Ukraine, inflation was swelling in the United States. Financial analysts traced the trend to spring 2021, when pandemic pressures on the economy began to ease and households were eager to spend cash on travel, entertainment and other experiences. However, supply lines were still bogged down by pandemic-related disruptions and could not meet the pent-up demand, causing prices to rise.
The Labor Department reported Thursday that consumer prices were rising at the fastest pace in decades. The three categories that contributed most to overall price hikes in February were shelter, gasoline and food, the report said.
The cost of household groceries rose 8.6 percent in the last 12 months, the most significant annual leap since April 2018, according to the Labor Department.
Newsweek reached out to Walmart and Connor for more information but did not hear back in time for publication.