With no John Wall, and the Washington Wizards floating amorphously around the middle of the Eastern Conference, Bradley Beal chose a good time to go supersonic.
Beal, the All-Rookie shooting guard, broke out of a slump on Tuesday night by dropping 51 points on the Portland Trail Blazers, easing the Wizards to a 106-92 blowout. With Wall out with a sore left knee for the sixth straight game—a "source of consternation" for the Wizards, according to Fox Sports—Beal took on the Wizards' offensive burden almost single-handedly.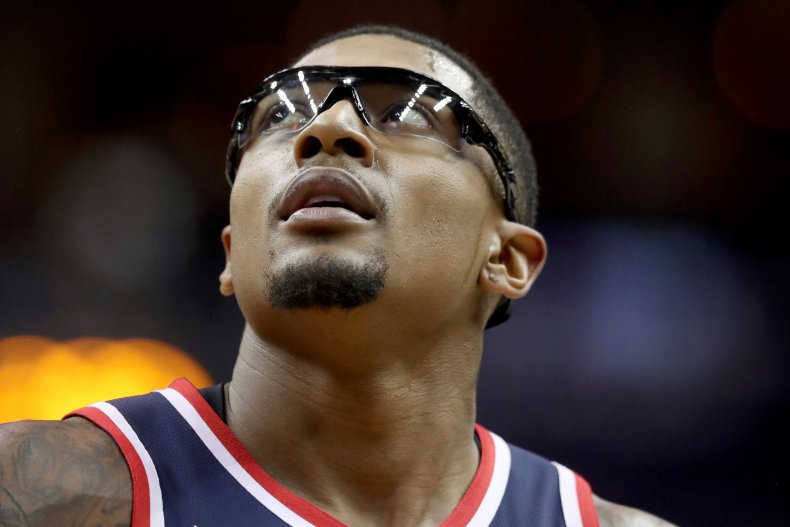 The 24-year-old shot 21 of 37 from the floor with five three-pointers, and tacked on three rebounds and two assists. No other Wizard managed more than 14 points. Beal's 51 points came in 43 minutes of play—no one else on the team played more than 30.
As Yahoo Sports pointed out, Beal's offensive eruption was due. In three of the Wizards' four previous games, he had gone under 11 points. Beal had also been struggling with his shooting, hitting an average of 33 percent in those games. The 2017-18 season hasn't exactly been going badly for Beal despite those recent numbers. Through 23 games he's averaging 22.1 p.p.g., only a tick under the 23.1 he managed through 77 in 2016-17.
He saved the best until last on Tuesday night, too. Beal's 50 and 51st points against the Trail Blazers may have been his most memorable. Staying upcourt for a Trail Blazers possession, he collected a steal and outlet pass and dunked, hard, hanging onto the rim for extra effect.
Of course, if Wall's absence is going to continue then the Wizards need this kind of thing from Beal regularly, if not every night. It's not like the Washington offense has been doing this kind of thing regularly—they managed 69 points in four quarters against the Jazz on Monday.
"I haven't been playing good the last five, six games," Beal said postgame in quotes reported by Yahoo Sports. "My teammates do a great job of keeping my head up, keeping my spirits up, and [helping me] continue to be the elite player I want to be. We needed this one. Last game was embarrassing—by me, by everybody. We owed it to ourselves to be better tonight, and we came out with the right focus and got a great win on the road."
Next up for Beal and the 13-11 Wizards is an easier-looking assignment: a visit to the Phoenix Suns on Friday.