Video: Washington Man Throws Hot Coffee in Face of McDonald's Employee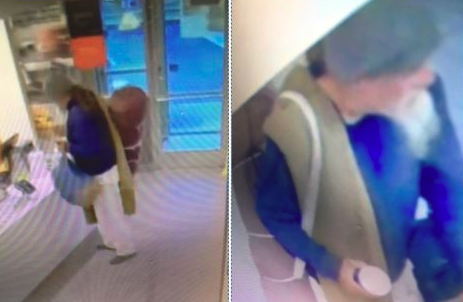 Police in Lacey, Washington, are searching for a man they say threw hot coffee at a McDonald's restaurant manager in a "fit of rage," leaving her with severe burns to her face and neck.
Surveillance video of the incident, which took place at around 5:45 a.m. on Friday, shows a man with long hair asking for a refill of a cup of coffee, which police say the manager agreed to.
Then, the man appears to become agitated, reaching across the counter to show his receipt to the manager. According to KIRO-TV, he was complaining about the price of the coffee, which was $0.97.
Seconds later, he throws his hot coffee at the McDonald's employee's face before running out the door.
Police say the man had been "verbally abusive" to the restaurant manager and had been told to leave.
"Because he was being verbally abusive with her about the price of the coffee and the fact that he was just filling a thermos," Sgt. Dave Campbell of the Lacey Police Department told ABC 7 Chicago.
"She told him he was going to have to leave. This upset him, so he in turn, he took the hot cup of coffee, which was just filled up and he threw it in her face," Campbell said.
The woman suffered severe burns to the side of her face and neck as a result, ABC 7 Chicago reported.
McDonald's has previously claimed to keep fresh-brewed coffee at around 180F degrees and has even faced legal action over its coffee being kept at "dangerous" temperatures.
Lacey Police have said they are still searching for the suspect in the assault. They said in a tweet that the man may be "transient," or on the move, and "may have mental health issues."
While this incident ended with serious injuries, it is not the first time this month a customer at a fast food chain has acted out at an employee in anger.
Less than two weeks ago, a customer at a Tim Hortons location in Vancouver defecated on the floor and threw her feces at staff after she was told she could not use the restroom and was asked to leave.