The Oklahoma City Thunder have finally got some momentum going after a slow start to a season that promised so much.
Through the first half of the regular season, it seemed like the Thunder have been confused, trying to work out whether Russell Westbrook, Carmelo Anthony and Paul George should defer to each other and in what order.
The Thunder have underperformed in compiling a 21-17 record, and yet they are fifth in the Western Conference thanks to an 8-2 run over the past ten games. The latest win, a 133-96 blowout of the Los Angeles Lakers, showed how dangerous Oklahoma can be when it balances scoring between its 'Big Three.'
Westbrook had 20 points, 12 assists and six rebounds, George scored 24 and Carmelo Anthony 21. They were all eclipsed, though, by rookie guard Terrance Ferguson who had 24 points in a team-high 33 minutes. Ferguson got the OKC bench bouncing with a series of spectacular dunks.
Anthony and Westbrook had some fun at the end of the game, too. The reigning regular-season M.V.P. sneaked up behind the power forward and squirted water over him in the middle of a television interview. "Ah motherf****r, s***," Anthony shouted in a video posted by Bleacher Report on Twitter.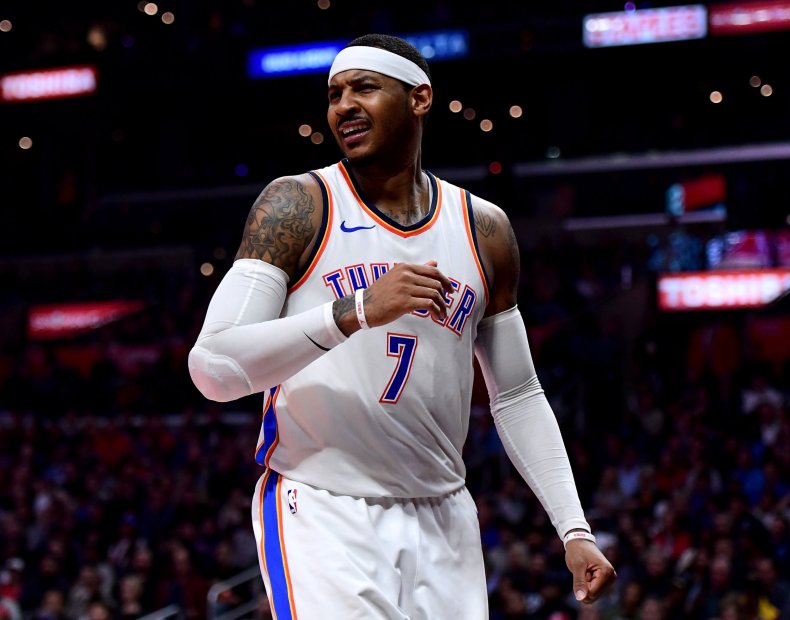 The Thunder look like they're finally having fun with their superteam, and that spells bad news for the rest of the Western Conference.
About the writer
Sportswriter at Newsweek.