VIDEO: Watch This Toll Booth Arm Batter a Van's Rooftop Passengers
A van loaded with people in India ended up with a bumpier ride than usual when their driver overshot a toll booth and the automatic barrier repeatedly swung down on the passengers perched on top.
Traffic police in the city of Hyderabad in the Indian state of Telangana shared the footage on official social media feeds.
"Rash driving and carrying people in a goods carriage is always dangerous," read the police's message posted with the video.
The incident came months after Union transport minister Nitin Gadkari announced that all physical toll booths in India will be removed by next year and replaced with automated toll collection via GPS.
India uses a system called FASTag to collect tolls. The Union Ministry of Road Transportation and Highways made the technology mandatory in February. Drivers who don't use the system are required to pay double the toll at remaining booths.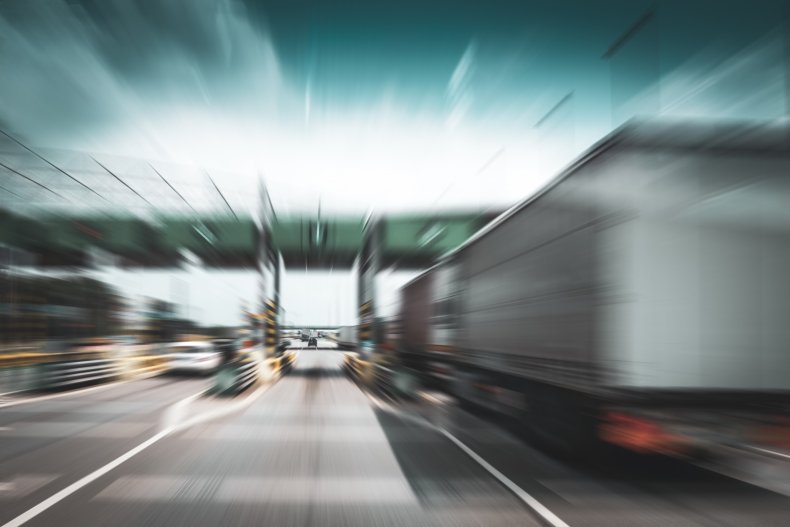 The automatic gate and its smooth repeating motions are typical in India, according to Rotech, an Australian producer of gates and turnstiles. Companies and government agencies prefer automatic gates because they don't generate excess heat.
But automatic gates come with their own set of problems.
They can malfunction, either at random or when drivers fail to pay their tolls. Such problems have decreased as the technology improves, but they usually require attention from a civil servant — a lane attendant — which causes delays. Drivers stuck in the resulting longer lines are also more likely to make unsafe lane changes, according to the traffic police.
In some cases in the United States, impatient drivers have driven through gate arms, snapping them off. That drives up the cost of operating toll roads and causes traffic jams, according to the U.S. Federal Highway Administration.
Despite the repeated smacks, no one on the Hyderabad van reported injuries. Help ultimately arrived to reset the barrier so it stopped repeatedly going up and down.
The Federal Highway Administration reports that there are 111 interstate toll roads in the United States — more than 5,600 miles in all. Twenty-five of them are in Puerto Rico.
The most expensive road to drive in the country is the Whiteface Mountain Veterans Memorial Highway in the state of New York, according to government highway data collected by carinsurance.org. More than 4,600 feet above sea level, it hugs a mountain peak for just five miles. But at $1.50 per mile, it's more than twice as expensive as the second-place road, a 17-mile California stretch that costs drivers 59 cents per mile.
This story was provided to Newsweek by Zenger News.