VIDEO: 'Welcome To America' Says U.S. Veteran Who Joined Ukraine's Fight Against Russian Invasion
Footage released by the Ukrainian military shows two men dressed in military gear and holding rifles, and the words "Welcome to America" are heard after one points out what appears to be a badly damaged Russian military vehicle.
The video, shared on March 25 by the Land Forces of Ukraine, has an accompanying message saying "American volunteers from the foreign legion in a village liberated from the orcs," apparently alluding to the Russian soldiers in reference to the brutish humanoid creatures depicted in J. R. R. Tolkien's "The Lord of the Rings."
"In the background, the occupiers' tank burns beautifully," the Land Forces of Ukraine statement says.
"I don't know if you guys know what this is, but, I mean, that's a Russian tank! A Russian tank that was taken out," one of the men dressed in the military gear and carrying a rifle says as he points to a badly damaged vehicle.
The camera then pans behind the soldier and smoke appears to be blowing from the charred remains of a tank.The focus returns to the soldier, and he and a similarly dressed man carrying a rifle are seen together and then walking away, and "Welcome to America!" is heard being said by two voices.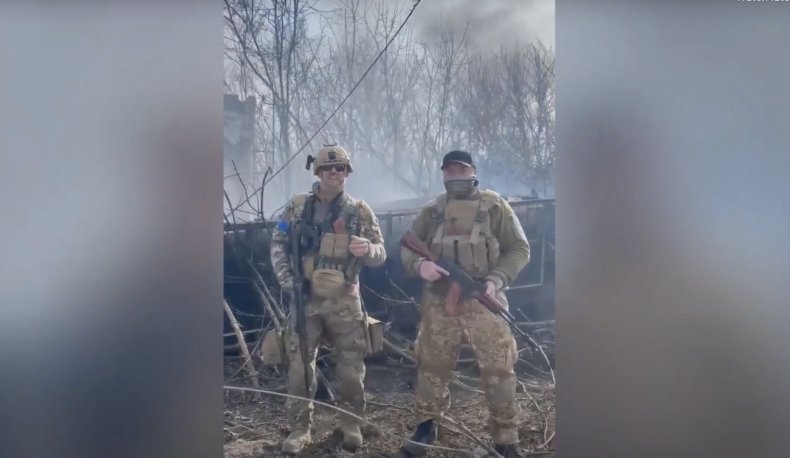 The first man seen in the video has been identified by the New York Post and other media as James Vasquez, 47, of Connecticut. He is said to be a U.S. Army veteran who runs a home improvement company.
"This village has been Russian occupied for a month, they terrorized the people and took their food. Today we entered, took out 7 tanks and countless Russians thus liberating these people," Vasquez said in posting the video on his Twitter feed.
"It's in his DNA — it's what he loves to do," Vasquez's wife, Tina Vasquez, told the New York Post of her husband going to fight in Ukraine. "He did the same thing after 9/11, rushed in to help. That's just who he is — he's my hero," she said.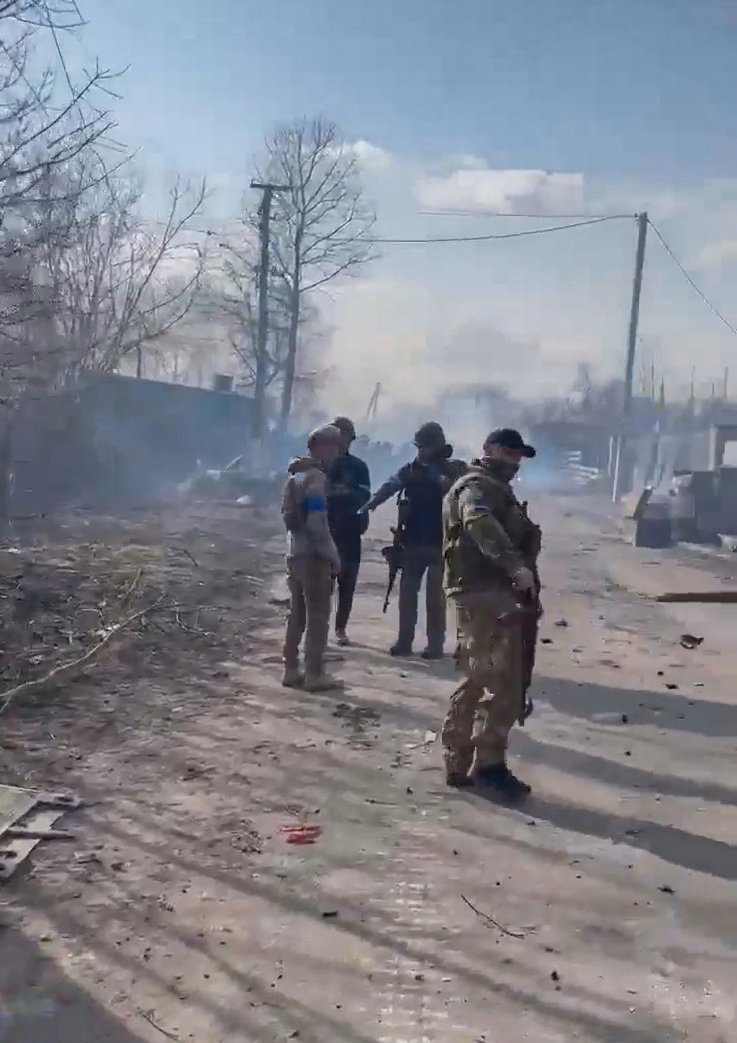 Volunteer fighters from the United States are seen in the village Lukyanovka on the border of the Kyiv and Chernihiv regions in Ukraine.
@UkrainianLandForces/Zenger
President Joe Biden arrived in Poland on Friday after attending Thursday meetings in Brussels of NATO and other organizations focusing on the situation in Ukraine. On Thursday, Biden announced that the United States would accept 100,000 Ukrainian refugees and urged that Russia be expelled from the G-20, the economic-matters-focused group representing 19 countries and the European Union.
"I'm here in Poland to see firsthand the humanitarian crisis and, quite frankly, part of my disappointment is that I can't see it firsthand like I have in other places. They will not let me," Biden said. "Understandably, I'm guessing, cross the border and take a look at what's going on in Ukraine, but I'm eager to hear from you in the humanitarian community about what you see, what you're doing and where you think we go from here."
During his visit to Rzeszow, Poland, a city 60 miles from the Ukrainian border, Biden met with U.S. service members from the 82nd Airborne Division and is scheduled to receive briefings on the conditions facing Ukrainian refugees.
This story was provided to Newsweek by Zenger News.