Video: What Caused Boston Gas Line Blasts?
A series of gas explosions killed one teenager and injured at least 10 more people as some 39 houses in three towns north of Boston went up in flames on Thursday. As the community grapples with the aftermath, citizens have been asking what caused the incident officials have named "Armageddon."
Last night, officials scrambled to evacuate the three communities affected, battling enormous flames. The Massachusetts State Police encouraged all residents who were customers of Columbia Gas in Lawrence, Andover and North Andover to evacuate their homes.
"It looked like Armageddon, it really did," Andover Fire Chief Michael Mansfield told reporters (via Providence Journal). "There were billows of smoke coming from Lawrence behind me. I could see pillars of smoke in front of me from the town of Andover."
Leoney Robson, 18, became the first fatality of the incident after an explosion caused a chimney to crash into his car, reported WHDH. Authorities said Robson was immediately rushed to hospital, where he was later pronounced dead.
Methuen Police Chief Joseph Solomon said around 20 to 25 houses were ablaze by the time he arrived at the scene. The fires are so intense "you can't even see the sky," he added.
The Massachusetts Emergency Management Agency claimed the neighborhood's over-pressurized gas lines caused the explosions, but an official cause is still to be determined pending an investigation by local and state authorities—a process Gov. Charlie Baker revealed could take days or even weeks.
"This is still very much an active scene," he said. "There will be plenty of time later tonight, tomorrow morning and into the next day to do some of the work around determining exactly what happened and why."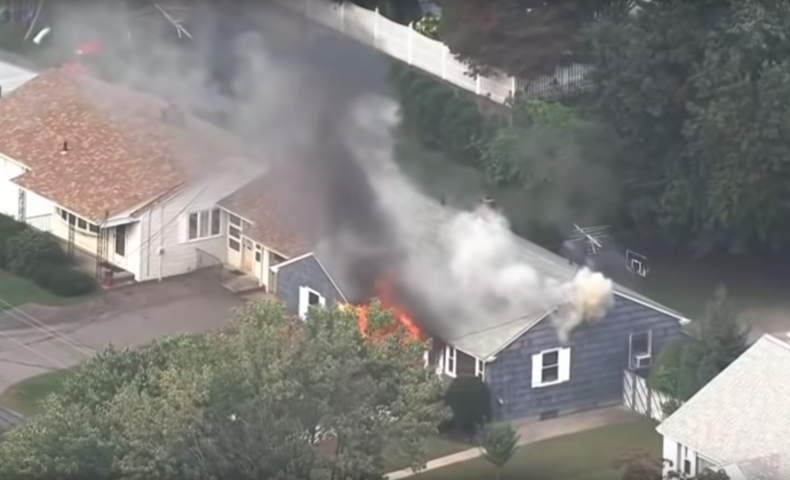 The parent company of Columbia Gas issued a statement hours after the explosions saying it was carrying out safety checks in the three communities affected.
"Our thoughts are with the community and everyone impacted by yesterday's tragic incident. We are focused on providing as much support as possible to our customers, residents and communities," NiSource said in the statement that, which was updated on Friday morning. "We are grateful for the community's patience, as well as the tremendous support we have received from our first responder and law enforcement partners."
The company added: "As part of response efforts, Columbia Gas crews need to visit each of the 8,600 affected customers to shut off each gas meter and conduct a safety inspection. Additional support is being provided by crews from several affiliated Columbia Gas companies and other utilities who are currently mobilizing to provide assistance."
After the statement was released, Baker called the company's response "inadequate."
Earlier that same day, Columbia Gas announced that the company is working to upgrade all its gas lines across Massachusetts, including the three communities that were later affected by the explosions, reported Providence Journal.
Although authorities managed to extinguish all the flames by Thursday night, many areas affected remained quiet through the night, as authorities kept the power off to minimalize damage.
Video: What Caused Boston Gas Line Blasts? | U.S.