Video: White Wisconsin Officer Punches Black Youth in Face in Mall Parking Lot
A white male officer was caught on camera punching a 17-year-old black man in the face at a mall parking lot in Wauwatosa, Wisconsin, on Friday afternoon.
In a video of the incident, which was captured by a shopper at Mayfair Mall, one officer can be seen punching the teen before another one helped him pin the young man to the ground. The two officers then appeared to handcuff the teen's hands behind his back as he begged for them to call his mother.
"Why'd they punch him like that—and he's a minor," one witness can be heard saying in the cellphone footage.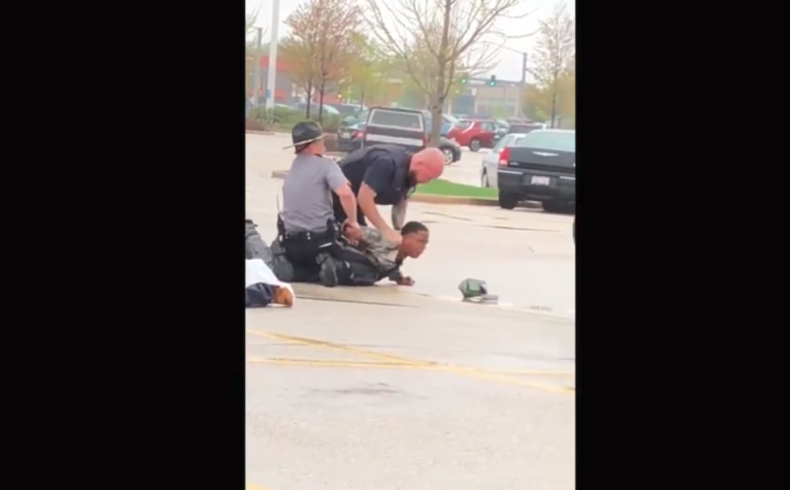 Newsweek subscription offers >
According to WDJT-TV, officers said they were called to the location by mall security who claimed there were five people causing a disturbance. The teen, who has not been named, was arrested and cited for resisting an officer, battery and disorderly conduct. Police claim the teen attempted to fight off one of the officers as they detained him.
In a statement, the Wauwatosa Police Department said the video represented "only a small segment of the interaction between the suspect and the officer" but also confirmed that they were investigating the incident.
The Milwaukee Black Panthers, a political organization that challenges police brutality against the African American community, are calling for the officer to be fired for his actions and for the department to undergo diversity training.
"It doesn't matter if that individual was causing a disturbance in the Mayfair Mall, he did not deserve to be brutally assaulted, and punched in his face and knocked down and then placed on his stomach and punched in his face again," said King Rick, the Black Panthers Milwaukee leader, reported CBS News.
Newsweek subscription offers >
Lt. Jeff Farina, the shift commander, replied: "Listen. This happened yesterday. You need to give it time. You need to let our department do the investigation. It will be investigated, King Rick, I promise you it will be investigated."
Farina admitted that the officer is currently still working and has not been put on leave pending the investigation.
Watch the video below:
Video: White Wisconsin Officer Punches Black Youth in Face in Mall Parking Lot | U.S.