Video: Wingsuit Skydivers Attempt Record-Breaking Group Jump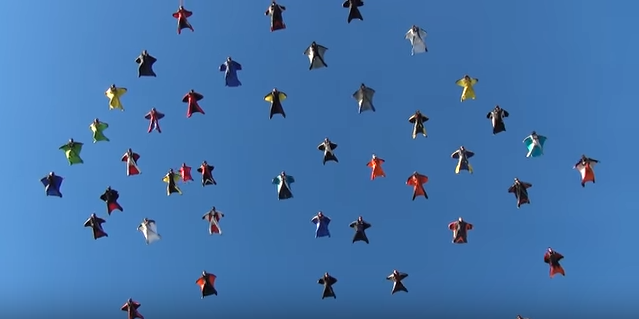 A group of 61 skydivers in wingsuits most likely set a world record Saturday when they created a diamond formation high above California, the Associated Press reported.
After one successful record-breaking attempt that day with 50 skydivers at Skydive Perris in Southern California, the group completed a second with 61 divers from a dozen countries, including the United States, Canada, Britain, Australia, Russia, Poland, South Africa and Israel. A video of the attempt shows divers being dropped from three planes, each wearing a wingsuit, which adds surface area to divers' bodies and slows their fall. The camera eventually shoots the skydivers from below, as their colorful suits form a diamond grid.
Lead jump organizer Taya Weiss told the AP that a panel of judges from the Fédération Aéronautique Internationale (FAI), the official body that tracks international records in aviation and skydiving, verified the record. According to the AP: "One judge on the ground witnessed the jumpers leap from three separate aircraft at 13,500 feet, create the formation and then break apart at 5,500 feet. Two other judges reviewed photos of the jump later and confirmed Monday it was official."
But FAI IT Manager Visa-Matti Leinikki tells Newsweek over the phone Wednesday from the head office in Lausanne, Switzerland, that the body has yet to receive the formal record claim, which must arrive within seven days of the attempt. The FAI must then receive documented evidence of the record within 120 days to process and confirm the record.
Still, Leinikki confirms that the most recent record under review in this category, "Largest formation records—Wingsuit flying no grip," is from June of this year with just 42 skydivers. No other claims have come in since, he says. In other words, if the confirmation process goes smoothly, Saturday's 61-diver formation should become a world record.
Wingsuit group jumps differ from other formation dives, during which participants hold onto one another, Leinikki explains. The most recent record claim listed for a so-called sequential formation came from a September 29 jump with 202 divers, also performed at Skydive Perris.
Saturday's attempt may not yet have an official stamp of approval from the FAI, but the footage is nevertheless striking. Watch the video of the record-setting dive here, though it's not recommended for anyone with a vicarious fear of heights.