WNBA Championship Parade Video Showing Barely Any Spectators Goes Viral
The Chicago Sky made history on Sunday when they brought home their franchise's first ever WNBA championship.
But when celebrations for the momentous win took place on Tuesday, the gulf between public support for men and women's sports seemed clearly evident.
Video footage shared on Twitter of the championship parade showed a scant scattering of supporters as open-top buses made their way through the streets of the Windy City.
The footage, which has been viewed more than 1.3 million times, was shot from a building overlooking the parade and showed the small crowd cheering loudly as the victorious team rode past them in a motorcade.
Twitter users quickly expressed their disappointment at the lack of crowds gathered to celebrate Chicago's first professional basketball win since the Bulls collected their sixth NBA championship in 1998.
"I feel bad for them," wrote one resident of the Illinois city. "I only found out we had a team last week when they made it to the finals, the league needs to do better to put a spotlight on their league."
Responding to that tweet, another said: "They try but every comment is 'ESPN keeps trying to force the WNBA down our throats.'"
One observer commented: "One of the biggest cities/markets in the US and the ones fighting for equal pay, equal exposure, and equal recognition in women's sports couldn't show up for them? Man. Shows you people just like to sit behind a screen and pretend to fight."
"Congratulations to the team but I'm sorry the mayor couldn't come up with a more realistic celebration to honor them rather than embarrass them like this," opined another. "Maybe it's not worth a parade, but it's definitely worth more than this."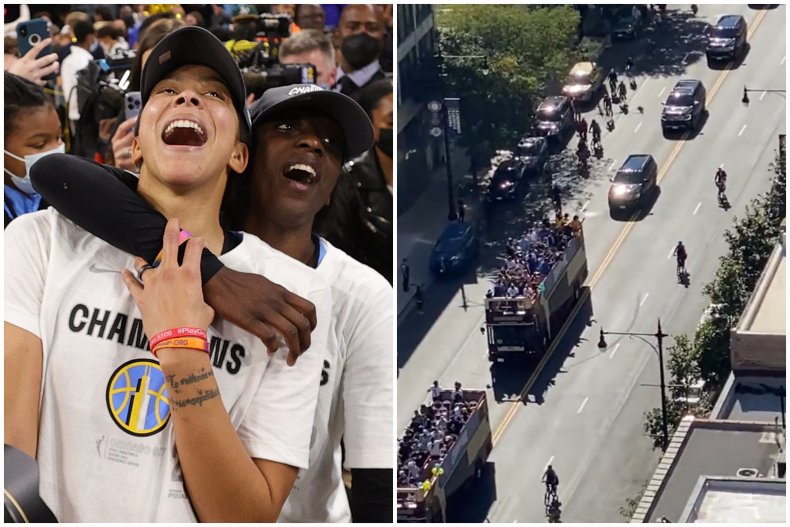 Mayor Lori Lightfoot announced on Monday the Sky would complement their winners' rally with a parade up Michigan Avenue, in similar style to the celebrations of previous sports championships that all had been won by men's teams.
Despite the parade appearing to attract low numbers, the Chicago Sun-Timesreported that thousands of fans were on hand to cheer on the winning team at the Jay Pritzker Pavilion.
Sky coach/general manager James Wade confidently assured there's more of the same to come as he told the crowd: "Remember the seat you're sitting in. We're gonna make sure you're sitting in the same one next year."
The Chicago Sky, which was formed in 2005 before debuting in the 2006 season, made history on Sunday as they beat the Phoenix Mercury 80-74 in Game 4. Reverend Jesse Jackson and Chance the Rapper were among the attendees.
Former President Barack Obama was among the high-profile figures to congratulate the team on their win.
Taking to Twitter, the erstwhile Illinois senator wrote: "Congrats to our new WNBA champs, @ChicagoSky! I couldn't be prouder of this team—they worked hard for this moment, and have made our city proud."
Beyoncé's father, Mathew Knowles, and her Destiny's Child bandmate, Michelle Williams, were announced as minority shareholders in the franchise shortly after its inception.