Video: Woman Addresses Alleged Sexual Abuser During Mormon Church Testimony
While delivering her testimony at a service for The Church of Jesus Christ of Latter-Day Saints in Arizona, McKenna Denson spoke about being raped nearly 30 years ago and called out her alleged abuser, who was in the room.
In a video posted on Facebook, Denson, who lives in Colorado, began her testimony on Sunday with a quote by British parliament member Edmund Burke and stated, "The only thing necessary for evil to triumph is for good men to do nothing."
Denson then told attendees of the service that Joseph Bishop, who was sitting with his son Steven at the time, allegedly raped her in the basement of the Missionary Training Center (MTC) in 1984 while he was president.
At this point in her speech, a man approached her, put his arm around her shoulder and whispered that he'd like to talk to her afterward but right now, she had to sit down. Denson continued to try to deliver her speech and called for accountability as another man approached her on the other side. When the men tried to nudge her from the podium, she told them they were assaulting her and advised them to call the police.
"In order to keep the church safe we need to hold sexual predators accountable whether they are pedophiles or whether they are rapists like Joseph Bishop," Denson said as she was escorted away from the podium.
A second video posted on Facebook showed Denson approaching Steven outside of the church and she said, "Your dad raped me at the MTC." When Steven told her, "yeah right," she advised him to listen to the audio.
The audio she was referring to was a leaked audio recording of Bishop that was posted on the MormonLeaks website, which has Bishop, now 85, apologizing to Denson for his actions, although never fully admitting to the specific abuse. Newsweek reached out to Denson but did not receive a response in time for publication.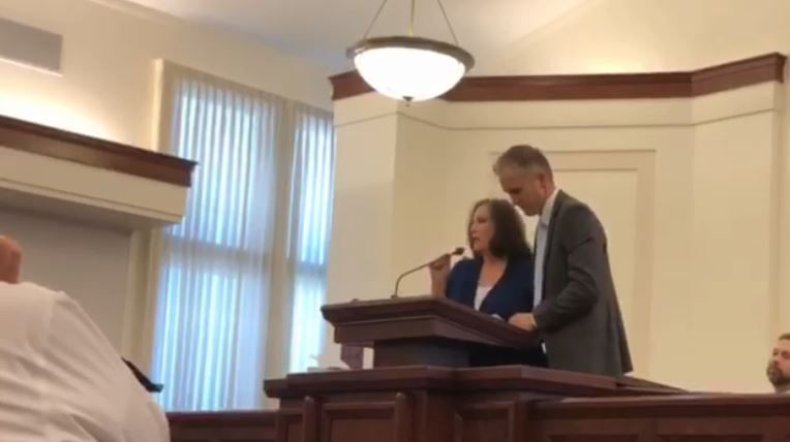 Eric Hawkins, a church spokesman, said in a statement to KTSU that members are able to share their testimony once a month in a specific service. Hawkins called it "disappointing" that Denson would use the worship service to bring attention to her personal cause.
"Recording and posting of these disruptions on social media to seek public attention and media coverage, sadly, shows an unfortunate lack of respect for others," his statement said. "We respectfully request that those with personal grievances find other means to communicate their messages than disrupting the sanctity of a worship service."
At 21, when she was training at the MTC, Denson told ABC News that Bishop began to single her out and the two would have one-on-one conversations that usually turned sexual in nature. Allegedly under the guise of visiting a spot where he went to pray, she joined Bishop in the basement, where he tore her blouse open, pulled down her undergarments and raped her.
In 1987, three years after the alleged assault occurred, she went to a bishop at the Mormon Church and told him what happened. He told her he would investigate it, but during Denson's conversation with Bishop, he said no one ever asked him about it.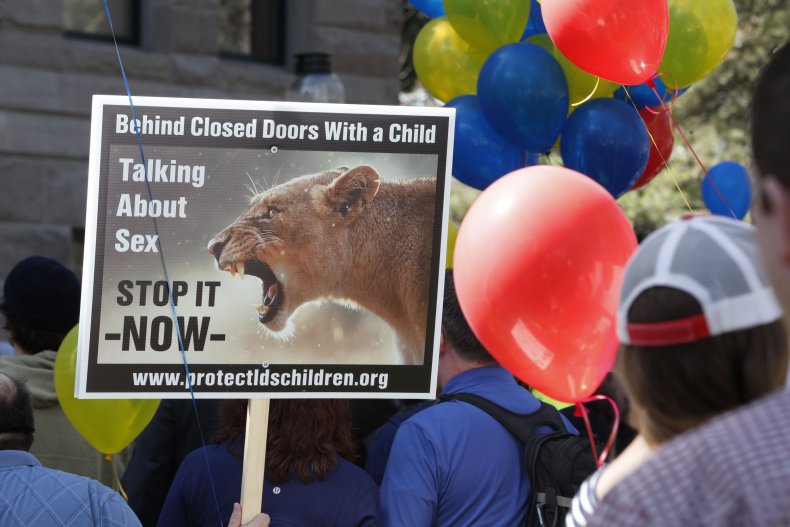 "We're taught in the Church, we don't go to the police, we go to the bishop, we go to the stake president," Denson explained to ABC News. "Trusting that, and obeying that and believing that that's the reason why I didn't go to the police all those years ago. It was never suggested to me that that would be appropriate. So I went through the church for three decades."
In 2017, Denson went to the Brigham Young University Police to report the sexual assault and while officers questioned Bishop, he admitted that in 1984 he took a woman into a small room on the MTC campus and asked to see her breasts, The Salt Lake Tribune reported.
Denson filed a lawsuit against Bishop and the church in April but had the majority of her claims dismissed by U.S. District Judge Dale Kimball in August because they fell outside of the statute of limitations, according to The Salt Lake Tribune. Given the time of the alleged assault, Denson had to file suit by 1988 for sexual assault and by 1991 for her claim of emotional distress being inflicted.
However, the judge ruled that the statute of limitations for her claim of fraud against the church didn't begin until 2017 when she interviewed Bishop and learned that there were other cases of alleged abuse. Denson asserts in her suit that the church committed fraud by placing Bishop in charge of the MTC despite seeing red flags of sexual misconduct years earlier.
Denson hopes that by coming out publically with her story now, she can help affect change within the church, predominantly by making it unacceptable for priesthood leaders to have one-on-one meetings. Had that policy been in place when she was at the MTC, she told ABC News that she believes none of this would have happened.