Video of Women Confronting 'Creepy Man' Who Stalked, Photographed Them in Airport Goes Viral
A video has gone viral for capturing two women's confrontation of a "creepy man" who allegedly stalked them and took their photos in an airport without their consent.
The video, which was reportedly taken at Phoenix Sky Harbor International Airport in Arizona, begins with a text overlay that reads, "Creepy man caught following us and taking pictures of us."
"Were you taking photos of us?" a woman in the video asks a man. The man is wearing a face mask, shorts and a blue-striped shirt.
The man responds, "No, why?"
"Umm, we were just told that you were taking photos of us," the woman explains.
"No," the man says.
The woman then asks, "Is there any way we can see your camera roll?"
The man responds, "No, that's okay. I wasn't." He then starts to walk away.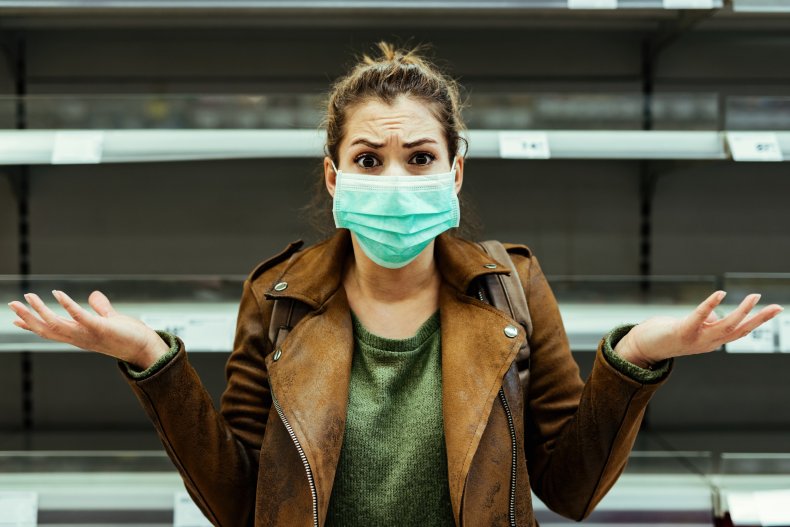 The woman then asks why she can't see his camera roll if he wasn't taking pictures of them. He refuses again as the two women recording him continually ask why they can't see it.
He then says, "I'll get rid of it."
One woman then says, "Sir, it's really weird to take pictures of females in public without their permission, so you should never do that again. Imagine if we were your daughter or someone related to you."
As the man says, "I know. I know," the woman adds, "It's not okay, so just delete them."
The man then says that he will. He then pulls his phone from his pocket while waving the women away with his other hand. One woman clarifies that she wants the man to delete the images in front of her so that she can see that they're gone.
"In front of me right now," she says, adding, "Do you think I'm joking?"
As he accesses his phone's camera roll, she says, "I see you shaking. I see the photos. No, I see the photos right there. Delete them."
"Okay, okay," the man says as he selects five pictures he took of the women and deletes them. The woman then tells the man to go into his recently deleted folder in his phone, presumably so that he can permanently delete them from his phone's memory.
The video then shows the man's face. Although he is wearing a face mask, the woman recording the video asks her viewers if anyone recognizes him. She asks whether he is "someone's dad that takes pictures of females in public."
He says, "Don't worry."
One woman responds, "I'll call you out any day because that's f*cking weird, and never do that again."
"There is no Arizona law that prohibits a person from photographing or taking video of another person in public view," the Phoenix Police Police Department told Newsweek. "However, it is against the law for a person to photograph or record another person where there is a reasonable expectation of privacy, such as a bathroom or home without consent."
The department said that people should contact the police for assistance if they ever feel harassed or unsafe.
While it's not explicitly illegal to take a picture of someone in public without their consent, people sometimes object to it as a violation of their personal rights. Others worry more about what the photographers might do with the images: whether post them online or use them privately.
Another video of a similar confrontation has recently gone viral. In it, a 29-year-old woman named Janelle Rodriguez confronted a man who took a picture of her buttocks at a Planet Fitness gym.
Rodriguez, who goes by j_rodriguezxo on the video-sharing app TikTok, said that another gym user told her that the man had taken a picture of her.
Though the gym revoked the man's membership, Rodriguez said that what she actually wanted was his apology and a promise that he would never take such photos again.
Newsweek contacted the Phoenix Sky Harbor International Airport security team for comment.
Update (5/4/2021, 4:15 p.m.): This article has been updated to include a statement from the Phoenix Police Department.