Video: Yankees Fan Throws Beer Can at Red Sox's Craig Kimbrel, Narrowly Misses Him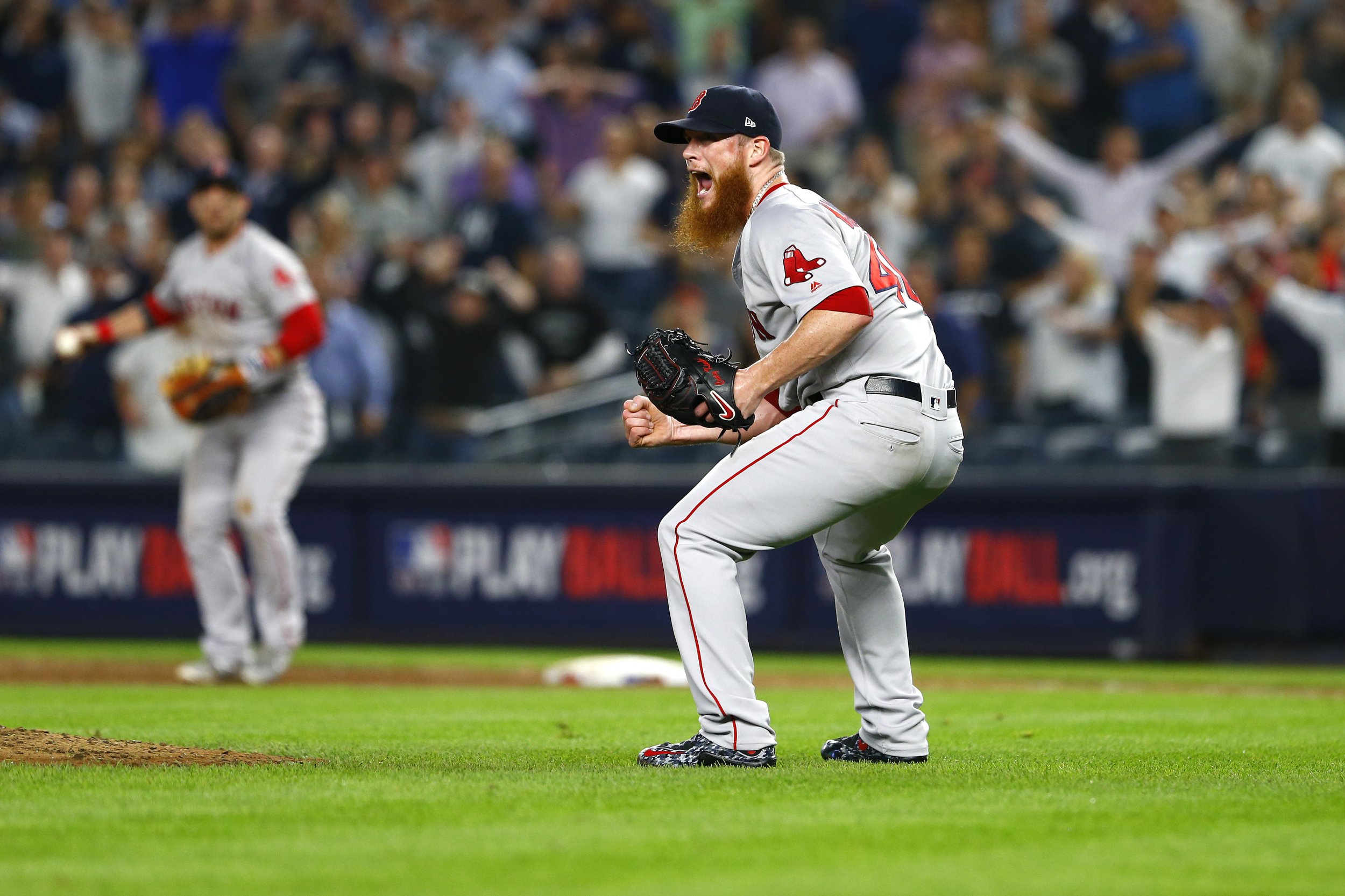 New York Yankees fans have endured a difficult postseason, watching their team losing the American League Division Series against the Boston Red Sox—which included a 16-1 thrashing on home turf.
For one fan, watching the Yankees losing to their bitter rivals was obviously too much to take. On Tuesday night, as the Red Sox won 4-3 in Game 4 to clinch the series win, a Yankees fan threw a full beer can at Red Sox closer Craig Kimbrel as he walked out of the bullpen.
Footage of the incident circulating on social media shows the can barely missed Kimbrel, much to the relief of the policeman who was stood only feet behind him. While the Red Sox closer looked almost unaware of the can being thrown towards him and barely flinched throughout the incident, the outcome could have been much more serious had the beverage found its intended target.
This is not the first time a Yankees fan has used beer for the wrong reasons in this postseason. Last week, a Yankees supporter poured the amber nectar on an Oakland Athletics fan during the AL Wild Card Game at Yankee Stadium.
The incident went viral on social media and the A's official Twitter account set out to identify the fan to provide him with "some new Oakland A's gear that doesn't smell like beer."
The fan, named John Spencer, came forward and eventually made up with the guy who threw beer on him, who he named as Chris on social media.
In fact, the latter went as far as buying Spencer a ticket for Game 4 of the ALDS between the Yankees and the Red Sox and the duo attended the game together, as Spencer documented on Twitter.
It seems hardly unlikely that Kimbrel will offer tickets to the Yankees fan who threw a can at him, let alone attend a game together. After his close shave, the Red Sox relief pitcher had the last laugh as he recorded two saves in the game, bringing his career tally—including the postseason—to 336.
Kimbrel entered the pitch at the bottom of the ninth with the Red Sox leading 4-1, before allowing a leadoff walk to Aaron Judge and a single to Didi Gregorius. He then struck out Giancarlo Stanton, walked Luke Voit to load the bases and hit Neil Walker to force a run.
"It got a little exciting there at the end," Kimbrel told MLB.com. "We got [a three-run lead], and the goal is to come off the field with a win, and we were able to do it."