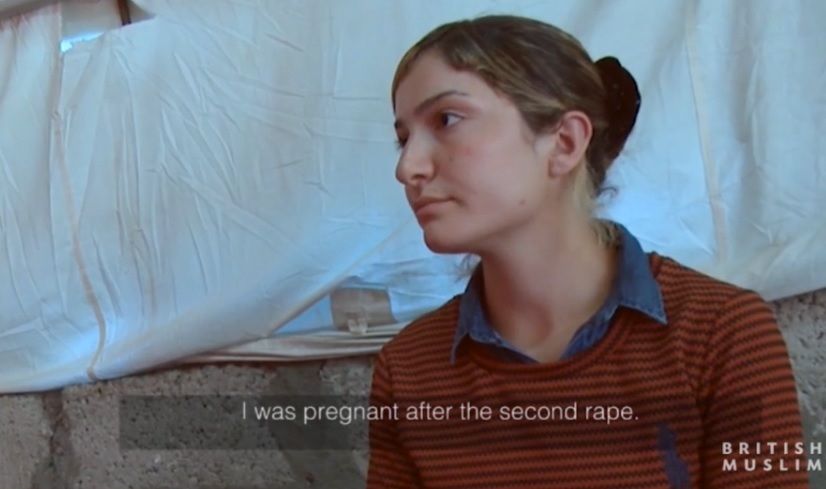 A Yazidi teenager who was held as a sex slave by the Islamic State militant group (ISIS) says she was kidnapped and trafficked by the alleged masked executioner Siddhartha Dhar.
Nihad Barakat, now 17-years-old, said Dhar, a London native who goes by the name Abu Ramaysah, is now one of the most senior commanders among foreign fighters in Mosul, the group's stronghold in Iraq.
Members of Dhar's family and the British media have identified him as a replacement for "Jihadi John," or Mohammed Emwazi, the masked executioner of hostages in ISIS propaganda videos. Emwazi was killed in a drone strike in November 2015.
ISIS fighters kidnapped Barakat and 27 members of her family after the fall of Sinjar, in Iraq, two years ago. Militants forced her to marry in Syria where she was beaten and raped, eventually becoming pregnant.
Now, in an interview for a new series on the British Muslim TV channel about life on the frontline in Iraq, she has revealed for the first time the names of the foreign fighters who enslaved her, The Independent reports.
"I was pregnant after the second rape," she said. "I tried to abort the child but was unable to. My brother was with me and they said if anything happened to the baby they would kill us both.
"They told me I had to become a Muslim. I didn't want to have a baby that came from them and after what they had done to me."
Dhar, who has four children and lived in Walthamstow, East London, was identified by his sister, Konika Dhar, and the British media as the man in an ISIS propaganda video, which saw ISIS militants execute five men, purportedly British spies. In the video, Dhar said that the militant group will "descend on the streets of London, Paris and Washington" to "spill your blood...erase your history...convert your children." He has been pictured in Syria posing with automatic weapons while holding a baby and dressed in military attire.
Barakat said Dhar has taken a number of Yazidi sex slaves since he arrived in Syria in 2014 and claims he played a key role in the capture and trafficking that led to her becoming pregnant with another ISIS fighter's baby.
Barakat said the first man she was forced to marry was the Australian extremist Abdul Salam Mahmoud, one and a half months before he was killed in Syria.
"When I was captured near Kirkuk they took me to another leader from Mosul—his name is Abu Dhar," Barakat said. "He took Yazidi girls for himself. Every day he would tell me I had to marry another man."
It is not possible to verify whether the man who kidnapped and abused Barakat is the same man who appeared in the ISIS propaganda video. As well as Dhar's legal name and his nickname of Abu Rumaysah, he has also gone by the name Saiful Islam since his conversion in his late teens.